LifeBogger presents the Full Story of a Football Genius who is best known by the Nickname; 'Flying Dutchman'.
Our Robin van Persie Childhood Story plus Biography Fact brings to you a full account of notable events from his childhood time right until the moment of football fame.
The analysis of the ex-Arsenal and Man United legend involves his life story before fame, relationship life, family life, and many OFF-Pitch little-known facts about him.
Yes, everyone knows about his premier league history, but few consider Robin van Persie's Biography, which is quite interesting. Now, without further ado, let's Begin.
Robin van Persie Childhood Story – Early and Family Background:
For his Biography starters, Robin van Persie was born on the 6th day of August 1983 in Rotterdam, Netherlands.
He was born to his mother, José Ras van Persie and his father, Bob van Persie. Both parents got divorced while he was a little kid.
Robin comes from an artistic family. José Ras, his mother, is a painter and jewellery designer. She also teaches special needs children. Bob, his father, is a professional sculptor.
While growing up in Rotterdam, Van Persie was known as a "juvenile troublemaker who loves nothing else but football". After Van Persie's parents divorced, he was brought up by his father.
At school, Van Persie was one of the most misbehaved children. He was excluded from class almost daily.
Robin van Persie Education and Career Buildup:
In fact, he was never the academic type. His teachers had always told him…: "Robin, do your homework, it is important you have your diploma".
However, young Robin listened to the other voices from his fans which said…"You're going to be like Johan Cruyff". This left his teachers sad with his attitude, which showed total displeasure towards academics.
His dad never got himself worried about his son's behaviour. We tell you why!.
Rob van Persie had known football was his son's calling right before his birth. He said, "Even though he hated academics, his destiny was to be fulfilled."
Robin was kept out of even more trouble than he would have entered due to his passion for soccer. From 1997 to 1999, he played for Excelsior as a youth. Excelsior's philosophy was to recreate street football.
They allowed kids to play without too much interference. The club attaching coaches worked hard on Van Persie's right foot and head.
Nurturing the skills required playing in the streets of Kralingen, the multi-cultural neighbourhood in east Rotterdam where he grew up and where his father still lives.
Robin was so popular at the club as he rose to its highest youth rank. Excelsior board of directors had to name a stand after him at their 3,500-capacity Stadium, Woudestein in Rotterdam.
Robin van Persie Biography – Road to Fame Story:
Since age 11, Robin had grown up supporting Arsenal all thanks to his dad who is a die-hard Arsenal fan. Below is a photo of him.
At the age of 13, Van Persie was tipped for stardom in his homeland with observers continuing to liken him to Holland legend Johan Cruyff. This brought more passion for the game as he carved his hair to look like a ball.
The talented Dutchman joined Holland's biggest club Feyenoord at the age of 13 in order to pursue his dream, but he became his own worst enemy.
His performances on the field were far from lacking. More so, his blatant arrogance and selfishness shadowed his skill. When van Persie turned 20, Feyenoord got rid of him.
After leaving the club, Robin continued his sublime skills on the streets of Kralingen on concrete courts with high-wire fencing known as the 'cage.'
Luck shone on him as he shockingly became an Arsenal scout's first choice of a player that would replace Bergkamp after his departure. Van Persie was given a starting role to play alongside Henry as a second striker upfront.
Who is Bouchra Elbali? Robin van Persie's Wife:
To start with, Robin van Persie's choice of a wife still baffles many of his fans. He is currently married to a Moroccan beauty, Bouchra Elbali.
The couple has two beautiful children, a son named Shaqueel and a daughter who bears the name Dina. Here is Bouchra Elbali van Persie with her kids.
Just like Anthony Martial and Philippe Coutinho, Robin van Persie got married at the early age of 20.
The Allegation:
Although Bouchra van Persie and her husband, soccer star Robin van Persie, had a rocky start to their marriage due to rape allegations (details below).
They had only been married for a year at that point, and Bouchra once considered leaving her new husband. However, she stuck it out and now the couple had moved on from the heartache.
Having observed his wife is a Muslim, a journalist once asked Robin if this has caused him to convert to Islam, Van Persie said,…
"It's not true. I am not a Muslim, nor a Christian or a Jew. I have been raised liberally. If you want to become a Muslim it should come from the heart. I would not do it just to please my wife. To believe for me is a quest for being a good man."
Bouchra van Persie is also a musician and loves singing in Dutch.
She is very proud of her husband in terms of his achievements in football. Her Twitter page is filled with posts praising her husband.
When he was on Arsenal, Bouchra was interviewed by the Mirror.
She said, "A good captain should be ­concerned about the club, about the team, about everything ­involving Arsenal. Oh, and in the meantime, I have been promoted to 'skip's wife'."
On her profile page, she describes herself as, "The mum of two gorgeous kids and the proud wife of an amazing husband."
Van Persie revealed that his son called him 'Daddy Arsenal' during his days as a Gunner, which could have posed some problems after his switch to United last summer.
Robin van Persie Untold Biography – The Crying Kid:
Robin van Persie's Turkish club Fenerbahce once paid for a Manchester United fan, Louis Diamond, to fly to Istanbul to meet him after a video of the youngster crying at the news of the Dutchman's exit from Old Trafford went viral.
Below is a photo evidence of Little Louis Diamond crying for Robin van Persie.
The video, filmed by Diamond's parents, came to the attention of Fenerbahce supporters who started an online campaign to raise $2000 (£1,281) in July so that Louis could get the chance to be reunited with his idol.
The clip found its way to the Fenerbahce president Aziz Yildirim who then decided to invite the Diamond family to Turkey. Yildirim's invitation was accepted and they arrived in Istanbul on Thursday evening to be greeted by the Fenerbahce TV crew.
Luck shone on him again as a Fenerbahce board member, Ilhan Eksioglu, had another surprise in store. He booked the family a five-day holiday in a popular summer holiday destination Antalya.
"We want to thank Fenerbahce and the president for making this happen. We can't wait to see Robin van Persie play," said Diamond's father Sam upon arriving in Istanbul.
Robin van Persie Family Life:
Robin van Persie comes from a middle-class Dutch family background before football investments paid off for him and his family.
Here, we provide you with details of his family life starting with his dad, ROB van Persie. Meet Robin van Persie's father- Rob van Persie.
About Robin van Persie Father:
BOB van Persie is a man who believes in prophecies. He claimed that before Van Persie was born, a clairvoyant told him what his son would go on to achieve:
"She told me that school would not interest him but, when it came to sport, that he would be a king and Ferrari on the field. That he would be in the Dutch national team" BOB said in a Manchester Evening News Report.
Bob van Persie is a die-hard Arsenal fan. He has a piece of his sculptural artwork inside the Emirates Stadium which he made from old Arsenal magazines. Both father and son appear to be very close.
About Robin van Persie Mother:
José Ras van Persie pictured below is the lovely mother of the Legendary van Persie. Meet José Ras van Persie.
She once joined the clamour for her son to stay at Arsenal. In her words…
"When we go to Arsenal and we walk into the stadium with him, it is electrifying. As a mum, that fills me with pride. It is really fantastic.
When Robin's granddad, my dad, was over at the Emirates for his (91st) birthday and we were taking pictures inside, I heard grown-up people behind me say: 'We love Robin'. As a mum, I could not wish for a nicer thing."
About Robin van Persie Sisters:
Kiki and Lilly van Persie are the two sisters of Robin van Persie. The fortune-teller told their dad, Rob, that he would have three children, first two daughters and then a son.
It was Kiki and Lilly that came first and second before Robin came third. Meet Robin van Persie's sisters- Kiki and Lilly van Persie.
Robin van Persie Rape Accusation:
However, in 2005, van Persie was arrested on suspicion of rape. This happened after a nightclub pole dancer said he attacked and raped her. Robin van Persie admitted to checking into a hotel room with the stripper but denied that a rape occurred.
The incident took place at The Tulip Inn in Rotterdam, only 200 yards from where his wife Bouchra was sleeping. This was a time when he shared the lowest points of his career.
This was also the first year he was chosen to be a part of the Netherlands national team. The rape incident happened a year after his marriage to Bouchra in 2004.
The Dutch authorities didn't take things easy. Van Persie was thrown in prison for 2 weeks after being judged. The chargers were later dropped thereafter when the authorities observed the deed seemed consensual.
The situation almost cost him both his marriage and his career, but soccer's bad boy finally decided enough is enough, straightening out his attitude towards his wife, teammates and coaches.
Robin van Persie Personality:
Robin van Persie has the following attributes to his personality.
Strengths: Creative, passionate, generous, warm-hearted, cheerful, humorous
Weaknesses: Betrayal, un-faithful, Arrogant, stubborn and self-centred.
What RVP likes: Theater, taking holidays, expensive things and having fun with friends
What RVP dislikes: Being ignored, Not moving forward, facing difficult reality, not being treated like a king or queen.
Role Model: He ranks Thierry Henry, Dennis Bergkamp, and Marco van Basten as some of the major influences on his career.
Above all, Robin is an all-around sportsman. He is a fan of darts and tennis. And he has a particular talent for table tennis. He is a fan of the classic Al Pacino gangster movie Scarface.
Robin van Persie Facts – A Death Threat to Family:
When it was announced that van Persie was quitting the London team for their Premier League, many blamed his wife for being a gold digger.
One tweet was, "I wish death upon you. I hate you, you scum bag. I hope your whole family drops dead."
This is not the first time Robin had faced attack threats. During his youthful days, Robin and his best friend, Jorge Acuna were attacked by hooligans from arch-rivals Ajax.
Jorge Acuna was taken to hospital with head, neck and rib injuries. Young van Persie was lucky to have escaped being beaten to that extent.
Robin van Persie Biography Facts – Reason behind his Nickname:
On 13 June 2014, Holland handed defending world champions Spain a humiliating 5-1 defeat. In the days that followed, the image dominating newspapers, social media and TV channels was that of Robin van Persie suspended mid-flight. This gave rise to his nickname "The Flying Dutch Man".
His flight happened right after he headed the ball that would beat Iker Casillas and open the Dutch scoring spree.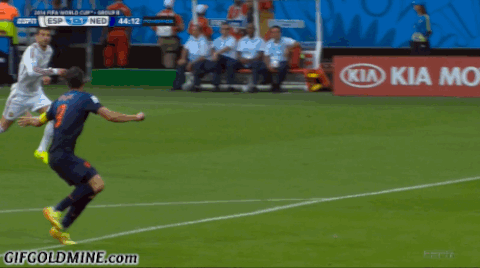 It was a magnificent feat of athleticism resulting in one of the most spectacular goals in World Cup history. The biggest handshake on modern-day football was what followed after his goal.
Robin van Persie Facts – How Man U Failed to sign him:
United could have signed Van Persie back in 2001 when Sir Alex Ferguson sent chief scout Jim Ryan to watch him – only for the teenager to be sent off. "Robin was only 16 or 17 at the time," said Ferguson.
The then- Manchester United manager said his scout Jim observed Robin was a fantastic talent. But felt that he was a little immature for a 16 years old.
In fact, he got a red card on the day Jim came to watch him at the stadium. Fergie later regretted not buying him long after Arsenal took the opportunity.
Why he wore Shirt Number 20 for United:
He had the choice of wearing the number 20 or 21 when he first moved to Manchester United. In Robin van Persie's words…
"The reason I took this shirt is that we're all here to champion this year and that would mean a 20th league title for Manchester United. That's the main reason I took 20," he explained at the time.
FACT CHECK: Thanks for reading Robin van Persie's Childhood Story plus untold biography facts. At LifeBogger, we strive for accuracy and fairness. If you see something that doesn't look right in this article, please place your comment or contact us!.