LifeBogger presents the Full Story of an Afro-Brazilian footballer best known by the Nickname; 'The Holder'.
Our version of Fernandinho's Biography Facts, including his Childhood Story, brings to you a full account of notable events from his childhood time till date.
The analysis of the Manchester City Legend involves his life story before fame, family life, relationship life and many OFF-Pitch little-known facts about him.
Yes, everyone knows about his midfield holding abilities, but few consider Fernandinho's Biography, which is quite interesting. Now, without further ado, let's Begin.
Fernandinho Childhood Story -Early Life and Family Background:
For Biography starters, Fernando Luiz Roza was born on the 4th day of May 1985, in Londrina, Paraná, Brazil.
The Taurus footballer was born to his mother, Cristiane Machado de Oliveira and his father, Luis Carlos Roza, who initially named him Fernando.
They changed his name from Fernando to Fernandinho due to the popularity of the first in Brazil. The name 'Fernandinho' means 'Little Fernando'.
Fernandinho grew up in a poor home in which everyone was Practical and well-grounded.
Just like Didier Drogba, he never played youth football as most Brazilian footballers did despite dreaming of becoming a footballer. Faith carried him all the way.
Because of poverty in his home, Fernandinho preferred doing menial jobs in other to help his family feed. He could only spend a little time playing football with friends on the streets.
Fernandinho proceeded to senior football trials as soon after saving enough monies. Luckily, after a onetime successful trial, Fernandinho jumped straight started a professional career аt Brazilian club Atlético Paranaense.
After spending three years and catching the attention of European scouts, he was shipped tо Shakhtar Donetsk in 2005, whеrе hе bесаmе оnе оf thе bеѕt foreign players tо еvеr play in thе Ukraine Premier League.
This gave him a move to Manchester City in 2013. The rest, as they say, is now history.
Who is Glaucia Roza? Fernandinho's Wife:
When you earn a high wage, bagging the hottest models in Brazil wouldn't be a difficult thing.
However, this wasn't the case for Fernandinho, as you might expect it to be. This is not to forget the fact that he has a very beautiful and humble wife.
As Wolexis puts it, the pair were together first in Brazil when Fernandinho wasn't rich. This was before he even nursed the dreams of coming to Europe.
Glaucia Roza was there for him all through his struggles. He wedded her in Brazil and took her to Europe (Ukraine) with him. Below is a photo of their wedding.
Today, Fernandinho is living a happy married to his spouse, Glaucia Roza. Both he and Roza are Christians and have been married for nine years.
As a sign of his unending love, Fernandinho has Roza's name tattooed on the inside of his left wrist.
They are the proud parents of their beautiful son, Davi Roza. Fernandinho often posts pictures of his family on social media. Examples are seen below.
Fernandinho, Glaucia and Davi have gotten used to their lives in the UK.
The photo below reveals how tall Roxa and Davi are when compared to the head of the home.
To this date, there are no rumours of their divorce or separation.
Fernandinho Biography Facts – Issue with Fabregas:
After watching this video below, please ask yourself…Who have you judged to be the wrong person, Fernandinho and Fabregas?
If you have found Fernandinho faulty, then YOU ARE WRONG!!. Perhaps, the dark side of Cesc Fabregas has probably played the fool out of you.
The truth is, Fernandinho only came to separate the situation by having the sympathy of his fellow countryman David Luiz being injured by Sergio Aguero.
Fernandinho aimed to end the problem. Little did he know Fàbregas would give him a hidden slap to the face. Below is a snapshot and video of the true incident.
Poor Fernandinho…, it was Fàbregas who gave him a slap and then became a victim and victor. Cesc Fabregas was lucky enough to escape FA punishment for his deeds.
Fernandinho Family Life:
Fernandinho is the only son of Cristiane Machado de Oliveira (His mother) and Luis Carlos Roza (his father).
He grew up along with his sibling named Thaís Fernanda Roza. Little is known of his father when compared to his mum Cristiane.
Both Fernandinho and his family are lucky to see football investment pay off despite the initial poor family background. Today, they share in their son's €90,000 weekly wage.
According to SoccerSunday Report, Fernandinho's mother, Cristiane, once gave a bombshell that former Manchester City holding midfield duos Fernando and Fernandinho (her son) are both her biological children.
This kept many football fans shocked. The 70 years old lady also revealed…"There is little to be gained in trying to untangle the mystery that Fernando and Fernandinho are my biological sons.
According to SoccerSunday report, Sao Paulo Hospital once admitted that Manchester City midfielders Fernando and Fernandinho were accidentally switched at birth.
The footballers are two of eighteen babies found to have been sent home with the wrong parents following an inquiry into hospital mistakes in the mid-80s.
Both players were later got reunited with their real families for the first time after 30 years. Though each admits to still being a little confused.
To date, both footballers physically look the same. Back then, if you don't catch the number, you don't quite know what is what as they play in a similar position.
More so, it is hard to establish distinguishable roles for both footballers. Fernandinho is stronger as a holding midfielder, while Fernando has more experience in top-flight football.
Fernandinho Personality:
The Man City Legend has the following attribute to his personality.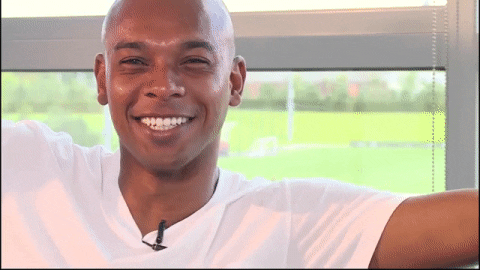 Strengths: Fernandinho is reliable, friendly, patient, practical, devoted, responsible and very stable.
Weaknesses: Fernandinho is quick to anger. More so, he is stubborn, possessive and uncompromising.
Taurus likes: Fernandinho likes gardening, cooking, music, romance, high-quality clothes and working with his hands.
Taurus dislikes: Fernandinho dislikes the sudden changes to things, relationship complications, insecurity of any kind and Brazilian synthetic fabrics.
Friendly Nature:
Fernando is a true friend to Manchester City mascots. His friendly nature is revealed in GIF below.

FACT CHECK: Thanks for reading Our Fernandinho Childhood Story, plus untold biography facts. He is a Man City Legend, a man who has paved the way for other South American stars (Julian Alvarez and Savinho) to join the club.
At LifeBogger, we strive for accuracy and fairness. If you see something that doesn't look right in this article, please place your comment or contact us!