LifeBogger presents the Full Story of a Football Handsome who is best known by the Nickname; "Mr Good Looks.".
Our Adam Lallana Childhood Story and Untold Biography Facts bring to you a complete account of notable events from his childhood time to date.
The analysis involves his life story before fame, family life and many off-pitch little-known facts about him.
Yes, everyone knows about his abilities, but few have read a concise piece of Adam Lallana's Biography, which is quite interesting. Now, without further ado, let's begin.
Adam Lallana Childhood Story – Early Life and Family Background:
For Biography starters, Adam David Lallana was born on the 10th day of May in the city of St Albans, Hertfordshire, United Kingdom.
Adam Lallana's Parents gave him a good upbringing at St Alban's but moved to the Iford area of Bournemouth when he was five years old. He attended Corpus Christi School, followed by St Peter's Catholic Comprehensive School.
As a child, Lallana supported Everton, like his father. He is of Spanish descent through his paternal grandfather.
Lallana was a member of the Bournemouth Centre of Excellence, where he was spotted by a talent scout from Southampton.
He joined the Premier League club's Suthampton Academy as a 12-year-old in September 2000.
Lallana began his youth career with Bournemouth before transferring to Southampton in 2000, where he developed in their academy and became a professional in 2006.
He finally made his name with Southampton. The rest, as they say, is now history.
Who is Emly? Adam Lallana's Wife:
Physical attractiveness is in the eye of the beholder. This is the case for Adam and Emly, who are both good-looking. Emly's beauty and sensuality were what made Adam fall in love with her.
Their love affair first flickered into life when both were in Bournemouth.
The couple had been dating for seven years and were due to marry on 14 June 2014, which coincided with England's opening World Cup match with Italy.
They still carried on with the wed at Poole Register Office in Dorset. Together, they have two sons, Arthur Michael, born on 26 September 2012 and Albie George, born on 3rd day of June 2015.
Adam Lallana Family Facts:
Starting off, Adam Lallana came from a rich family background before football paid off.
His father, David, ran a care home, and so Lallana spent his early years living amongst the elderly, people who are unable to think clearly, the confused and also the dying.
Back in the day, Adam Lallana was used to losing people he was really fond of.
About Adam Lallana's Father:
Adam Lallana's father, David Lallana, pictured below, is a Freemason.

Freemasonry is one of the world's oldest and largest non-religious, non-political, fraternal and charitable organisations.
Its roots lie in the traditions and ceremonies of the medieval stonemasons who built UK's cathedrals and castles. Some rituals are still celebrated today.
Most recently, long-standing Freemason David Lallana became the founding master of Britain's newest footy-themed Masonic Lodge.
He has vowed to use The Football Lodge in Southampton, Hants, to help the sport's grassroots.
Below is David Lallana celebrating the launch with his friends.
It is the fourth specialist lodge formed in the province in the last four years, following the launch of a scouting lodge, rugby lodge and motorsports lodge.
About transmitting his heritage to his son, David Lallana once said…"Adam knows as much about Freemasonry as me," says a proud David, who has studied Freemasonry's influence on the pitch.
Finally, David Lallana once revealed Freemason facts which showed that it members rule football in Britain.
In his words… "Manchester City had to be bailed out by Freemasons, that's why they play in their pale blue shirts and white shorts.
More so, Liverpool FC was founded by a board of Masons, and an Anfield lodge still meets. Finally, Sir Alf Ramsey, England's only World Cup-winning manager, was a Mason."
About Adam Lallana's Mother:
Sharon Lallana, pictured left in the picture below, is the mother of Adam Lallana.
She is pictured with the mother of Luke Shaw, Joanne Shaw, who is her best friend.
Both proud mums, Sharon Lallana and Joanne Shaw, whose sons Adam and Luke are footballers, are the proudest of their motherhood when they cheer for both on the England pitch.
About Adam Lallana's Sister:
Below is Natalie Lallana, the only sister and sibling of Adam Lallana. Natalie is Adam's advisor and manager.
Adam Lallana Personal Life:
Lallana has the following attribute to his personality.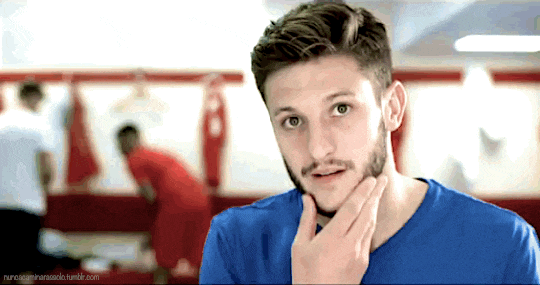 Adam Lallana's Strengths: On a personal note, Adam Lallana is reliable, patient, practical, devoted, responsible and very stable in his relationship.
Lallana's Weaknesses: Sometimes, Adam could be stubborn, possessive, and uncompromising.
What Adam Lallana likes: He loves gardening, cooking, music, romance, high-quality clothes and working with his hands.
Adam Lallana dislikes: Adam dislikes sudden changes against his expectation, complications from disputes and insecurity of any kind.
In summary, Adam is practical and well-grounded. He loves to be surrounded by love and beauty, as his wife Emily Jubb gives him.
As a sensual and tactile person, Adam considers touch and taste the most important of all senses.
Adam Lallana Untold Biography Facts – Best Friend:
The affection between the pair (Adam Lallana and Jordan Henderson) is genuine.
They live opposite each other in Formby, Merseyside with Nathaniel Clyne around the corner and Emre Can nearby.
A Model:
In 2014, Lallana was once signed as a French Connection model to promote their Autumn/Winter collection.
He revealed his fashion photoshoot in an interview with Esquire Magazine. Below are his collections which contribute to making him the sexiest footballer alive.
Adam Lallana Biography Facts – The story of his Frozen Feet:
Lallana once shared the stomach-churning snap to his Instagram page – which boasts 1.3 million followers.
He captioned the picture: "Any suggestions for defrosting feet. #nofilter."
The England man's toes had bruised and turned a revolting white colour after the Premier League clash. His image was met with mixed reviews from his social media following.
Adam Lallana Tattoo:
The handsome star has some unique details through his mass of inkings, with tattoos extending along the length of his side.
Adam Lallana Fan's Love:
Once upon a time, a tattoo pictured below went viral on social media. An unknown Liverpool fan got an 'Adam Lallana face' done on her thigh, much to the amusement of fans everywhere.
But it turns out the piece is actually a tribute to a friend who passed away and came with a really nice back story we present to you below.
In her words…."I got the tattoo here in Nashville, United States where I live.
I got it done on Monday (Feb 6, 2017), but I've been on the waitlist for a while to have it worked on. "Why Adam Lallana?" and "why did I get the tattoo?" kind of go hand-in-hand.
I was living in Kentucky a few years ago, and I made a friend in college named Paige.
I introduced her to Liverpool, and she became a fan as well. When we signed Adam Lallana, Paige really took a liking to him, and he became her favourite because he is very handsome.
To kind of bug her a bit, I used to call her "Adam Lallana"— she would get annoyed, but at the end, it always made her smile.
In 2014, my friend Paige passed away due to illness. After a couple of years, I thought, "I'll get a tattoo as a tribute to Paige", but I couldn't decide on what to get.
I moved to Nashville in 2015, and joined the local supporters group here for Liverpool (The Nashville Kop). While I was at the pub one day watching a match, Adam had done something "Player of the Year"-ish and I thought of "Paige". It made me smile remembering. I was sad that Paige was gone, but happy I had that memory. That's why I decided to get the tattoo.
People that I know personally have all loved it and thought it was brilliant. The internet is a completely different story.
There seems to be a 50/50 split between positive and negative comments. I've been trying to avoid reading about it too much. There are the usual mean comments–body shaming, people being negative–but then there's also the people that have said I made their day or made them laugh, or that now want llama tattoos, haha.
Honestly, when I look at it, it makes me smile. I think of my friend Paige, and I think she'd get a kick out of it. My fiancé laughs every time he sees it, so it makes him happy.
My friends all love it, and Adam Lallana himself laughed and approved, so I am perfectly happy with it too. As far as the viral thing, it's kind of nuts. I just got a tattoo and went to bed thinking nothing of it. Boy, was I wrong?"
Fact Check:
Thanks for reading our Adam Lallana Childhood Story, plus untold biography facts. At LifeBogger, we strive for accuracy and fairness.
If you see something that doesn't look right in this article, please place your comment or contact us!