Lifebogger presents the Full Story of a Football Genius best known by the nickname "Smiley Donny".
Our Shkodran Mustafi Childhood Story plus Untold Biography Facts give you a full account of notable events from his childhood from the moment he became famous.
The analysis involves his family background, life story before fame, rise to fame story, relationship and family and personal life. In addition, other off-pitch facts are little known about him.
Yes, everyone knows about his ever-smiling face. However, only a few consider Shkodran Mustafi's Biography, which is quite interesting. Now, without further ado, let's begin.
Shkodran Mustafi Childhood Story – Early Life & Family History:
For Biography starters, Shkodran Mustafi was born on the 17th day of April 1992 to his mother, Fatime Mustafi and father, Kujtim Mustafi in Bad Hersfeld, a town in the German state of Hesse.
Looking at the names of his parents, you will easily know Mustafi doesn't have a German family origin.
His parents are Albanians of Macedonian origin. Right from his early life, Mustafi is someone who has always been proud of his roots and grateful for his German surroundings.
A look at Shkodran Mustafi's parents in the picture below would trigger fresh thought about their young faces and ages. However, keep calm as we'll tell you all you need to know.
Judging from his parent's youthful looks, it is obvious that Fatime and Kujtim gave birth to their son at a very young age.
Did You Know?… Mustafi's father, Kujtim, was just a teenager, aged 17, when Fatime gave birth to him. Little is known about Mustafi's mother's age at the time she gave birth to him.
Both parents, after the birth of Mustafi, decided to adopt child spacing. Seven years later, Fatime gave birth to Mustafi's kid brother, whose name is Adrain.
Adrain who is pictured in the centre with his big brother was born on the 11th day of June 1999.
Both brothers still enjoy a strong bond with their cousins namely; Lulzim (pictured left) and Bekhim (pictured right). They all came from a footballing family.
Shkodran Mustafi Childhood Biography – Early Career:
Early on, Mustafi took a proactive approach to sports as a kid. This was because his dad who was a former goalkeeper and big football fan, was solidly behind his son, taking part in soccer without worrying about the risk of concussions or collision.
Smiley Donny, as he was nicknamed, actually started out as a striker. He got registered as a striker in the roster of his local youth club, FV Bebra. After playing there for a few years,
Mustafi became ambitious, thus deciding to switch to a bigger youth club, SV Rotenburg.
This club gave him the opportunity to get scouted by the German top flier club, Hamburger SV. Mustafi passed Hamburger's trials with no obstacles in his path.
Shkodran Mustafi Untold Biography Facts- The Big Decision:
Soon after his Hamburger trial, Musafi became faced with the emotional decision of leaving his parents and siblings in pursuance of his career with the German sports club based in Hamburg. Speaking of his decision to leave home, he once said;
Leaving home was an emotional time for me and his family. Asides my mum and dad, it was very painful to let go of my little brother, Adrain who was only 7 at that time.
Asides from coming to a new environment, Mustafi also faced a new career role with Hamburger SV. According to his youth contract agreement, he was to play as a defender.
The decision to play as a defender came as Mustafi met their height and defensive needs during trials.
Mustafi excelled in his new role with the youth club. He was deeply in love with Hamburg's academy that he rejected offers from top-notch clubs such as Bayern Munich, Borussia Dortmund and Schalke. Mustafi only accepted an English football club. You won't believe it's Everton.
The Wrong English Decision:
After eventually realizing football was going to be his life, Mustafi decided to make an early exploration of English football. He decided he would continue his youth career with Everton.
This meant he moved further away from home and learned how to speak a new language.
At Everton academy, Mustafi met Eric Dier in their youth setup. Both failed to impress the club despite earlier being hailed as "wonder kids".
Both Mustafi and Eric Dier were, however promoted to senior football with no assurance of first-team place.
At that point, Eric had set his mind on leaving the club while Mustafi decided to apply patience. Eric Dier left for Portugal thanks to football connections from his mum, a senior member of the European football body.
For Mustafi, being allowed to play just 15 minutes of football in two seasons caused further frustrations and limited his breakthrough.
Instead of getting regular game time, Mustafi saw himself being assigned tasks on youth development. Still, he kept that smiley face.
After two-and-a-half fruitless years at Goodison Park, Mustafi decided to abandon his English career for Italian football.
Shkodran Mustafi Biography – Sampdoria Rise:
Mustafi got an opportunity to play in Italy, where he got regular game time and better food. Even though Italy lacked the organization he might have been used to, it provided him with the senior career he had dreamt of.
With Sampdoria, his fading career life turned around in a short space of time.
Playing for two promising years in Serie A got Germany coach Joachim Low very excited about his prospects. This led to the German coach inviting him to their country's 2014 World Cup training ground.
At first, Mustafi got sent home, only to be called back after Marco Reus's injury. Upon hearing the good news of his son's call-up, Mustafi's dad once said;
At first, I thought he was kidding. Then he quickly convinced me that he was serious. I had to digest that first.
Shkodran Mustafi Bio – Rise to Fame:
The 2014 World Cup Glory: Despite injuring himself in his first 2014 World Cup match against Algeria, Mustafi still assisted his team in winning the World Cup in Brazil. This was when the football world got to know him.
Mustafi's 2014 World Cup victory got him a transfer to Valencia. After Nicolas Otamendi's departure, the German remained one of the most impressive defenders in La Liga. I guess you can recognize the person giving him a chase.
Further improvement at Euro 2016 led to his return to the Premier League. This time, Mustafi became a valued member of Arsenal's first team. The rest, as they say, is history.
Shkodran Mustafi Relationship Life with Vjosa Kaba:
Behind every successful German world cup winner, there is indeed a glamorous wag. This was seen in the beautiful person of Vjosa Kaba.
In July 2016, just days after his Euro 2016 and just a month before his Arsenal acquisition, Mustafi decided it was time for him to settle down.
He got married to model Vjosa Kaba in Gostivar, a city in the Republic of Macedonia.
According to reports, it was a private wedding ceremony with only family and a few friends as a guest.
Exactly a year after their wedding (July 2017), both couples had their lovely daughter who has become a big source of joy to Mustafi.
The Father-Daughter Love:
Mustafi has shared many photos of him and his daughter having the very best of time. The photo below proves that no love in the world is like the love Mustafi has for his little girl.
In Mustafi's words;
My daughter will surely outgrow my lap but would never outgrow my heart.
Shkodran Mustafi Family Facts:
This section of our Bio tells you more about his parents and family members. Now, without further ado, let's begin.
About Shkodran Mustafi's Father:
Surely, Kujtim Mustafi has enjoyed the benefits of having his son come to the world when he was only 17.
As seen in the photo below, both father and son enjoy a good friendship. Going out together with a 17-year gap in their ages signifies a perfect family life.
Early on, Kujtim Mustafi had difficulties in balancing work and family life. This happened after he retired as a goalkeeper for an unknown German amateur club. Kujtim's brother is the father to Bekim and Lulzim pictured earlier.
The Brotherly Love:
Shkodran Mustafi, unlike his kid brother Adrian was the one who inherited his dad's football gene. A strong brotherly bond exists between the two.
On Adrian's 18th birthday, Shkodran Mustafi sent an emotional message which reads;
I remember how happy I was on the 11th of June 1999 when you were born, my little brother. I was so happy to finally have a brother.
Unfortunately, I left home when I was 14 and you were only 7 years old. I wish I could have seen you grow up day after day. But even though I was not at home, I wanted to be there for you each time you needed me.
Now you're 18 and a grown-up man, it makes me happy to see how proud you are to watch your older brother living his dream. I hope that you will live your dreams as well! I love you and wish you a happy birthday and all the best.
Shkodran Mustafi Personal Life:
Mustafi is an enthusiastic, optimistic and very honest person who is mostly seen with his bright green Mercedes which he drives around his neighbourhood.
Whether on or off the pitch, Mustafi is always full of smiles.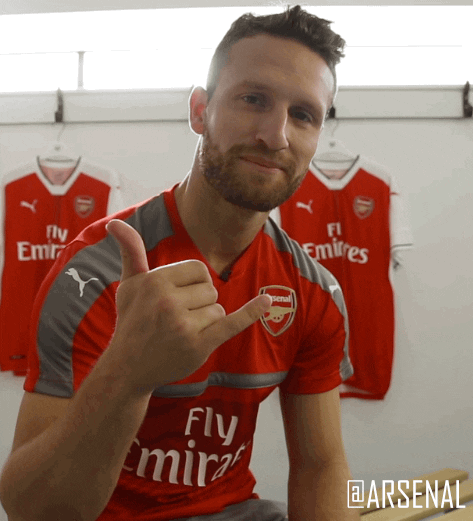 Mustafi is mostly close to friends notably his fellow countryman and club teammate Mesut Ozil.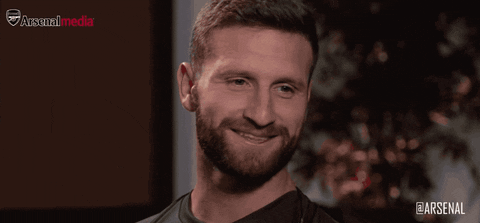 As observed from his Evertonian days, Mustafi has shown he is someone who loves to fight for his career goals. Today he is one among very few defenders whom fans would go mad for.
Shkodran Mustafi Religion – The Beer Bottle Controversy:
An interesting clash between religious beliefs and big-money sports commercial once occurred with Mustafi being in the centre of the event. This happened as the German once moved a beer away from his side during a press conference.
According to the report, Mustafi was heard saying, "I do not want this bottle of beer in front of me."
It was a beer bottle for one of Valencia's sponsors, Estrella. Mustafi's action came as a result of his religion forbidding him from either consuming or promoting alcohol.
It took the intervention of the spokesperson for Valencia to salvage the situation. He convinced Mustafi to allow the sponsor's bottle in his front. Watch the video below;
FACT CHECK: Thanks for reading our Shkodran Mustafi Childhood Story plus Untold Biography Facts.
At LifeBogger, we strive for accuracy and fairness. If you find something that doesn't look right, please share it with us by commenting below. We'll always value and respect your ideas.