LifeBogger presents the Full Story of an Argentine Defensive Genius best known by the Nickname; "Becho".
Our Marcos Rojo Childhood Story plus Untold Biography Facts brings you a full account of notable events from his childhood time to date.
The analysis involves his life story before fame, family life, and Off-Pitch Marcos Rojo Facts.
Yes, everyone knows about his defensive abilities, but few have considered Marcos Rojo's Biography, which is quite interesting. Now, without further ado, let's begin.
Marcos Rojo Childhood Story – Early Life:
For Biography starters, Faustino Marcos Alberto Rojo was born on the 20th of March 1990 in La Plata, Argentina. He was born to Carlina Rojo, his mother, and Marcos Rojo Snr his father.
He grew up in El Triunfo in La Plata, an impoverished city 40 miles from Buenos Aires (the capital of Argentina). It is a city known for its notorious criminal gangs and its football-loving inhabitants.
In a bid to make him kick-start his career in a non-crime-prone area in La Plata, Marcos' parents took him to Estudiantes LP, where he got registered as a youth footballer at the tender age of 4.
Below is an amazing archived picture of the defender taking his first steps in the beautiful game as a child.
As Marcos Rojo puts it,… "At the time I started playing football, my dad didn't have a car. He was poor, and my training wasn't very close to our house.
So we had to go by bicycle. We both went by bicycle for a long time. My dad used to sell things on the street, and he would come back to pick me up at home for the trip.
It was quite a long trip, and I would get pretty warm while he drives his bicycle!".
Marcos Rojo Biography – Early Life in Football:
Rojo had to cycle to training, a round trip of around 20 kilometres from his home to his training ground. He made a number of sacrifices in order to realise his dream of becoming a professional footballer.
"I could see his passion," said Rojo Snr (his father). "I could see it in him, and I could see myself in him because he would go after every ball. He was always different to the other boys of his age."
The club (Estudiantes) youth coach Gabriel San Millan also recognised Marcos' potential and helped develop his talent at his first professional club. "Technically, he was a good player," said San Millan.
He continued…"He had good skills and a good base. But the thing that always stood out about him was that desire to always do better.
Marcos Alonso's evolution as a player was incredible. When he was 18 or 19, he began to develop physically.
Marcos Rojo Bio – Road to Fame Story:
At the end of his teenage years, Marcos was already playing with the local side, Estudiantes, which was in the Argentinian First Division. Marcos's teenage years were blighted with fighting, and he quit school early.
There are a lot of robberies, fighting and even deaths. Football was his saviour. He has always played football since he was a little boy.
Always football, day and night. Many, many times, Marcos would get into fights. He gets very angry and has too many conflicts. It's the norm on these streets. You have to be strong.
After winning the Copa Libertadores in his late teen years, Marcos moved to Spartak Moscow and then, Sporting Lisbon.
He really made his mark at the 2014 World Cup finals in Brazil as Argentina went all the way to the final before losing narrowly to Germany.
This led to a call from Man United. The rest, as they say, is now history.
About Eugenia Lusardo – Marcos Rojo's Wife:
Rojo is married to Eugenia Lusardo, a lingerie model based in Lisbon. Both lovers met and fell in love with each other when Rojo was at Sporting CP.
Eugenia, as of then, was working at the Lisbon-based lingerie firm called Dama de Copas. She is a lady of enamoured beauty.
The couple have a daughter called Morena (who they affectionally call 'More').
Rojo's life with stunning model girlfriend Eugenia Lusardo is a world away from the Argentine's tough upbringing in a poor barrio.
The Affair:
In December 2014, Rojo had an affair with a woman he had met at a nightclub. He accused her of blackmail and took out an injunction to stop newspapers from publishing his name in the story.
The injunction on his name was lifted in April 2015 due to concerns that other footballers could be suspected of the affair, but it remains in place to prevent the release of images of Rojo.
Marcos Rojo Family Life:
Football saved Marcos from a life on the tough streets of El Triunfo and has lifted his family out of poverty. Below is a photo of Marcos and his Mum, Carlina, who is the greatest beneficiary of his wealth and success.
About Marcos Rojo's Father:
Rojo Snr, nicknamed 'Titi', was a former amateur player with El Cruce and helped push his son into the game at a young age.
His father made only £2.50 a day as a street-corner churros seller, which had to be enough to feed Marcos and his four siblings — Franco, and three sisters — Noelia, Micaela, and Sol.
Let's introduce you to Marcos Rojo's Siblings:
Noelia, Franco and Micaela are their names. Now, below is a photo of Marcos and three of his siblings during their childhood days.
Attack on Marcos Rojo's Family:
Marcos Rojo's fame and fortune have left his family back home living in fear of being murdered. Criminals in Argentina have already beaten up his dad and put a gun on his mother's head.
One particular gang member who stormed into his childhood home threatened to kill his nine-year-old sister, Sol and Godson, aged one.
They hoped to get their hands on some of the millions of pounds that he frequently funnels back to his loved ones. This came when his colossal earnings were famously made public by an Old Trafford cleaner.
The Family Fear:
Marcos's brother Franco and sister Noelia have bravely spoken out about the family's fear that they are victims of Marcos's success on the field
In an exclusive interview with The Sun, they told how since he joined Man Utd in August, the family have stopped answering their door and beefed up security.
Speaking from her home in La Plata, Noelia said: "We are always scared. They target us because of Marcos. They know the house; everyone knows. We have to take every precaution, and we don't answer the door to anyone.
We had to put bars on all our windows — the front, the back and the doors upstairs. It's dangerous being Marcos Rojo's family. But we won't leave because this is our home."
She was so incensed by the gang attack on her mother and father's home that she posted a picture on her Twitter account showing the aftermath of the violent ordeal.
Meanwhile, an outraged Marcos had demanded the police find the culprits — they never did — and took to Twitter to denounce the attackers.
Even when his family moved away from their house, they still remained another victim of
a new plot to extort cash from them.
It is pertinent to note that when Marcos joined United in the summer, the deal was held up because of work-permit issues caused by allegations of an attack in his hometown.
Managing Losing Situations:
Franco, his brother, said…: "He always wanted to be Veron and would pretend to be him when playing football in the house. Marcos will often sit in a room on his own for days at a time if his team has been defeated in an important match.
After Argentina lost to Germany in the 2014 World Cup Final, Marcos would not speak or see anyone for nearly a week. He can be upset for many days.
He stays angry. At this time, he needs to be left alone, and then he'll come back calm. After the World Cup, it took him about five days. He turns his phone off, and he doesn't speak to anyone. But it hasn't happened at Manchester United yet."
Marcos Rojo Biography Facts – The Controversy:
Marcos once caused controversy after posting a picture of drug lord Pablo Escobar on his Instagram page with the words:
"Only those who went hungry with me and stood by me when I went through a bad time at some point in life will eat at my table."
Marcos, when confronted, said the post was not a big deal and added: "I put the picture up because I liked the saying and the words." Perhaps, he's seen Escobar's life story on TV and likes the phrases. It doesn't mean.
In fact, he supports what he did. However, despite his success, Marcos has not forgotten his roots and makes sure all his family have benefitted from his success.
That might not have happened if he had followed his other passion in life, which is 'singing'. Marcos wanted to be a singer if he couldn't be a footballer. In fact, He sings and dances at all the parties, and all family events.
Personal Life:
Rojo has the following attribute to his personality.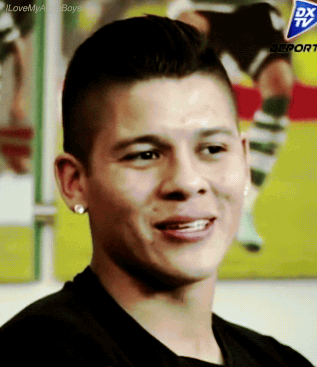 Marcos Rojo's Strengths: He is compassionate, artistic, intuitive, gentle, wise and very musical (His first talent before football).
Marcos Rojo's Weaknesses: Inability to manage losses.
What Marcos Rojo likes: Being alone, sleeping, music, romance, visual media and swimming.
Marcos Rojo dislikes: He does not like Mediocres, being criticized, the past coming back to haunt him and cruelty of any kind.
Marcos is very friendly, so they often find themselves in the company of very different people. He is also selfless and always willing to help others without hoping to get anything back.
Marcos Rojo Untold Biography Facts – Eating Banana:
Rojo provided one of the major talking points of one of Manchester United's Europa League tie with Rostov – by eating a banana on the pitch!
It was Jose Mourinho's side who progressed to the quarter-finals of the competition: 2-1 on aggregate thanks to Juan Mata's second-half strike.
Both sets of Fans were left mystified when Ashley Young was seen handing Rojo a peeled a banana for him to eat while on the field of play.
The Special One, Jose Mourinho, admitted that the unusual sight came as a result of fatigue, a factor that is likely to play an increasing role between now and the end of the season.
Mourinho told BT Sport: "Marcos was tired many times. He knows his body needs something. He simply asked for a banana. The banana situation isn't funny at all, we have to respect a player's physical situation."
Marcos Rojo Tattoo:
Rojo can already speak English, according to his leg tattoos, which read 'Pride' and 'Glory'.
He has lots of other tattoos, too:
Marcos Rojo Rabona Clearance:
but judging by this 'Rabona' clearance at the World Cup, he doesn't have much confidence in his right foot. Mark Lawrenson helpfully suggests that "he would have looked an ass" if he'd messed it up.
FACT CHECK: Thanks for reading our Marcos Rojo Childhood Story, plus untold biography facts. At LifeBogger, we strive for accuracy and fairness.
Asides from Marcos Rojo's Bio, we've got other Argentine Soccer Stories for your viewing pleasure. The History of Gonzalo Montiel and Nicolas Gonzalez will excite you.
If you see something that doesn't look right in this article, please place your comment or contact us!