LB presents the Full Story of a Football Genius who is best known by the Nickname; "Ice Man". Our Gylfi Sigurdsson Childhood Story plus Untold Biography Facts brings to you a full account of notable events from his childhood time till date. The analysis involves his life story before fame, family life and many off-pitch little-known facts about him.
Yes, everyone knows about his offensive midfield abilities but few consider our Gylfi Sigurdsson Bio which is quite interesting. Now without further adieu, let's Begin.
Gylfi Sigurdsson Childhood Story Plus Untold Biography Facts –

Early Life
Gylfi Sigurdsson was born on the 8th day of September 1989 in Reykjavik, Iceland. He was born to his father, Sigurdur Adalsteinsson, an Iceland Fisherman.
Sigurdsson was kicking a football as soon as he could walk. He was moulded into a footballer by his father and older brother, Olafur. Their father even rented a warehouse for the winter so his younger son's training regime was not interrupted. His big brother, Olafur had to teach himself and also went to a coaching school before he could become Gylfi's coach. "I was trying to find every VHS tape I could find and tried to learn how to coach a young kid,"
Both father and elder brother took him at the age of 13 and moved him to Breiðablik from FH Hafnarfjörður (Iceland names) as the conditions to play football were better there. He was taken there to flourish.
Fífan, an indoor hall with a full-sized artificial pitch, had recently been built and that was a key factor in Sigurðsson signing for Breiðablik at the age of just 13. Sigurðsson was always a player with potential during his younger years and his passing and shooting ability were evident very early on says Magnús Jónsson, Sigurðsson's coach between the ages of 11 and 14.
"He had a high technical ability when I met him at 14 years of age, especially when it came to striking a football. Many of the other boys were equally good but his passing and shot technique were miles ahead," says Jonsson.
"Sigurðsson was, like countless other children at his age with a strong Icelandic mentality, keen on improving, training long hours, and his will to win was huge, whatever the situation" adds Jónsson.
"He always trained very well and wanted to win every competition in training, whether that was a penalty shootout or football golf. On top of that, he always did extra things, he was always taking part in football schools and stayed behind after every training to do something extra," says Jónsson.
Gylfi Sigurdsson Childhood Story Plus Untold Biography Facts –
Rising to Fame
Gylfi began his professional career with Reading in the Championship, and in 2010 was sold to Hoffenheim which was Reading's biggest sale.
He was voted Player of the Season for two consecutive seasons – for Reading in 2009–10 and for Hoffenheim in 2010–11. After a season back in English football with Swansea City he joined Tottenham Hotspur for £8.8 million, and in 2014 moved back to Swansea as part of an exchange for Ben Davies. It was after his amazing run in Euro 2016 that Gylfi got widespread international recognition, thereby becoming the Icelandic version of Tiger Woods.
After Euro 2016, Gylfi, the son of a fisherman, became the country's most famous footballer. The rest, as they say, is now history.
Gylfi Sigurdsson Childhood Story Plus Untold Biography Facts –

Relationship Life
She is the lady that holds the key to Gylfi's heart. Alexandra won the Miss World Sporty section of the Miss World contest in South Africa in 2008. She also won Miss Iceland that same year.
When Alex walked the runway in South Africa 9 years ago from this date, Alexandra was a psychology student, who listed her loves as being outdoors and travel, as well as revealing her favourite food was reindeer steak and chicken salad. Today, she is a businesswoman and fashion blogger who blogs her way around the world.
As at the time of writing, both lovers live a quiet life in Merseyside with their dog, having previously lived in Swansea and London.
Gylfi Sigurdsson Childhood Story Plus Untold Biography Facts –
Family Life
As stated earlier, Gylfi Sigurdsson's father is a fisherman who is ranked among the best in his country. Below is Sigurdur Adalsteinsson and his favourite son, Gylfi.
Sigurðsson has also been blessed with great support from his family, which has obviously helped him throughout his career. He left Iceland to join Reading when he was still only 15, but was firmly supported financially by his family. Today, football investment has paid off for his onetime middle-class family.
"I see it clearly as an important thing that those who were close to him put a lot of effort into helping him. His older brother was especially good in working with him on football-related things. I think his mother and sister have also been helping him with the mental side of things. That's a big reason for how down to earth he is," says Jónsson.
After Olafur, his elder brother noticed his brother was good to go, he took up a career in golf.
He was a capable golfer although earning qualification to the European Tour never materialized for him.
Gylfi Sigurdsson Childhood Story Plus Untold Biography Facts –

Personal Life
Gylfi Sigurdsson has the following attribute to his personality.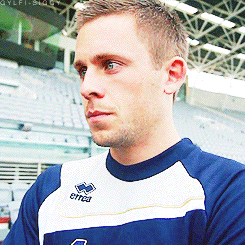 Strengths: Gylfi is Loyal, analytical, kind, hard working very practical in nature.
Weaknesses: Sometimes, Gylfi could express shyness, worry for himself or others he loves. He is the type who would prefer to practice football all day without having time for self except through Alexandra's intervention.
What he likes: Gylfi loves animals, healthy food, books, nature, and cleanliness.
What he dislikes: Gylfi dislikes Rudeness of any kind.
In summary, Gylfi is someone who loves to pay attention to the smallest details be it when receiving training instructions or in communication.
Gylfi Sigurdsson Childhood Story Plus Untold Biography Facts –

Going Back
The Icelandic international's older brother once shared a throwback snap from 2001 showing the then 12-year-old outside Goodison.
Sigurdsson poses next to the famous statue of Dixie Dean wearing a Blue's one-to-one jumper that looks rather big on him. His post reads; "Trained for a week with Everton, got to be a ball boy at Goodison and later went with Everton to Germany for a tournament."
Gylfi Sigurdsson Childhood Story Plus Untold Biography Facts –

Floki
Floki, a character played by Swedish actor Gustaf Skarsgard in the popular Vikings television series, is said to be the founder of Gylfi Sigurdsson's country Iceland.
Gylfi Sigurdsson Childhood Story Plus Untold Biography Facts –

He was almost a Gunner
Truth be told!. Before he joined Reading, Sigurdsson was on trial at Arsenal – his current club's arch-rivals. Who knows, Sigurdsson could have been playing for the Red half of North London had the trial worked out. Despite the miss, he still reserves a soft spot for the North London Club.
Gylfi Sigurdsson Childhood Story Plus Untold Biography Facts –

P
laying against Swansea
His Father knew it best. The night before he was about to face a tricky reunion with his old employers, Gylfi Sigurdsson decided to call home. The advice he received was crucial.
'I had a chat with my dad, Sigurd,' the Everton midfielder once explained. 'He said, "Whatever you do, don't celebrate". I'd spent three and a half years at Swansea, played my first Premier League game there. I've too much respect. When he said don't celebrate I said, "I know". I was never going to do it.'
Sigurdsson ended up scoring a wonderful goal through a whipping, right-foot strike that was voted for the goal of the month. After scoring, he got well within his right to let all his emotion out.
FACT CHECK: Thanks for reading our Gylfi Sigurdsson Childhood Story plus untold biography facts. At LifeBogger, we strive for accuracy and fairness. If you see something that doesn't look right in this article, please place your comment or contact us!.