LifeBogger presents the Full Story of a Football Stopper who is best known by the Nickname; 'The Octopus'.
Our Thibaut Courtois Childhood Story plus Biography Fact brings to you a full account of notable events from his childhood time right to the moment he made a name for himself.
This is the Biography Story of a Goalkeeper who proved England wrong in his 2022 Champions League Final heroics. Our analysis of Thibaut Courtois' Bio involves his life story before fame, family life, relationship life and many OFF-Pitch little-known facts about him.
Yes, everyone knows about his Goalkeeping abilities for both club and country. However, not many soccer fans have read Thibaut Courtois's Biography, which is quite interesting. Now, without further ado, let's begin.
Thibaut Courtois Childhood Story – Early Life and Family Background:
For Biography starters, Thibaut Nicolas Marc Courtois was born on the 11th day of May 1992 in Bree, Belgium. He was born to his mother, Gitte Courtois and father, Thierry Courtois.
Courtios was not born to be a footballer; he was born to be a volleyball player. As a young boy, he was clumsy and, at times, absent-minded.
He once admitted that he was thinking "too much" during a forward roll at gymnastics, and ended up completely taking out his teacher. "I've never been a hero at gymnastics," he said.
Accidents were a common theme during his childhood. More than once his mother, Gitte Lambrechts, who was a physiotherapist, had to drive him to the hospital.
He had broken ankle bone, jammed finger, handlebar in the groin, a gaping wound in his head after colliding with a chair, and so on. Life was never dull.
When Courtois was born on 11 May 1992 at the Maas en Kempen hospital in Bree, Belgium, his parents, Lambrechts and Thierry Courtois, both semi-professional volleyball players, had already decided they would let their young son decide which sport he would play.
They took him to volleyball games, of course, but it did not take long before young Courtois told his parents he wanted to focus on football. He was five.
Thibaut Courtois Biography Facts – Career in Summary:
In Belgium, you cannot join a club to play organised football until you are six years old, but after Thibaut Courtois had done enough crying and nagging, the president of a local club, Bilzen, allowed the youngster to join his youth club.
Courtois began his career with local side Bilzen V.V., not as a goalkeeper, but as a left-back. Although 18 months younger than his teammates, Courtois looked strong and powerful.
"He was a robust little kid," says his first coach, Bart Theunissen. "A quiet guy, but at that time already a no-nonsense person. We didn't have a real goalkeeper, as we rotated our players, which is usual at that age. But you already saw he had some good reflexes."
It was not long before the scouts of Racing Genk, the local first division team, began to take notice of his talent.
At eight, they invited him to one of their trial days and soon afterwards he joined them in the year 1999. It was there that he was converted into a goalkeeper.
Courtois graduated from the youth system of Genk, and aged 18, he played a key role in the team's Belgian Pro League victory.
In July 2011, he joined Chelsea for a reported £8 million and was immediately loaned to Atlético Madrid. The rest, as they say, is now history.
Thibaut Courtois Love Life:
Yes, he is romantic but very unstable in his relationships – as our research once revealed. We present to you details about the relationship life of Thibaut Courtois.

Thibaut is well known to have dated Spaniard Marta Dominguez, pictured above and below. They were together for a number of years having met when he was on loan at Atletico Madrid. Both enjoyed early happy times together.
On 26 May 2015, his Spanish girlfriend Marta Domínguez gave birth to their daughter, Adriana.
In April 2017, it was confirmed that Courtois and Domínguez had ended their relationship. That same year, Thibaut had a son, Nicolas, with Domínguez, born in 2017.
She was pregnant when both decided to pathways. Thibaut is the only known goalkeeper who has parted ways with a pregnant wife.
After parting ways with Marta, Thibaut said… 'My girlfriend Marta and I are no longer together. Since the beginning of September, we have decided to end our relationship on amicable terms.'
Marta was accused of having an affair with model Emily Vanhoutte, a wannabe Miss Belgium, Emily Vanhoutte. Ms Vanhoutte said she was shocked to later discover that Courtois was already taken.
She said: 'I would never do anything to start an affair with a man who cheats on his girlfriend. I did not know he had a girlfriend and led a double life.'
After splitting from a pregnant girlfriend, it didn't take long before Thibaut Courtois was spotted enjoying Holiday with a Mystery Woman. Both were enjoying each other's company as she clung to him while taking a Jet Ski ride.
Thibaut Courtois and Kevin De Bruyne Relationship Feud:
Kevin was once in love with Caroline Lijnen. They had dated for 3 years before their relationship was brought down by Thibaut Courtois, who was once regarded as a trusted friend of Kevin.
Thibaut Courtois, sleeping with his girlfriend, ignited the beginning of their feud. Kevin de Bruyne's ex-girlfriend Caroline Lijnen reveals she went on to cheat on him with his best friend Thibaut Courtois after Kevin himself had an affair with her former best friend.
She also admitted Courtois gave her the best emotional treatment ever, the type she couldn't get from de Bruyne.
In her word to Kevin… "Thibaut Courtois gave me in a night what you couldn't in 3 years"
She claimed Kevin cheated on her first, and she paid back. She also claimed Kevin's parents were aware of his cheats but couldn't do or say anything. Instead, they supported their son probably because he is a star.
According to Lijnen in her words to Belgian publication Story Magazine…she said…"I did not say anything for months because I couldn't say anything, as Kevin's parents said they would take legal action if I gave my story.
Kevin was proud to tell me that he had an affair with my old best friend. I gave him the choice: her or me. Again, I was ready to give him another chance, but our relationship was never the same afterwards. Truly, I was under pressure. I felt I was caged. And I decided to remain silent no longer.
This was why I went to Thibaut his best friend to seek refuge and advice. Thibaut consoled me and took the opportunity to show his emotions he's been hiding from me. He offered me what I had not received during a three-year relationship with Kevin.
He made me feel like a real woman. With Thibaut, I could talk about anything and everything. He even prepared me delicious meals. Kevin never did it for me."
Meanwhile, Courtois and de Bruyne never patched up their differences since the incident. This was the reason why Kevin lost his form at Chelsea FC.
De Bruyne felt devastated about what his best friend, Thibaut, did to him. He could have stayed at Chelsea to fight for his place, but his emotions couldn't allow him. This was why he left the club and why he returned as a rival.
Thibaut Courtois Family Life:
Starting off, we present to you a photo of Thibaut Courtois' family. Thibaut, as seen below, has a very close resemblance to his father, Thierry Courtois, who is a retired semi-professional volleyball player.
Thibaut Courtois' Mum:
Lambrechts, also known as Gitte Courtois, is the mother of the celebrated goalkeeper, Thibaut. Just like her husband, Thierry, Gitte is also a Belgian volleyball legend. It was volleyball that brought Thibaut Courtois' parents together.
Thibaut Courtois Sister:
Thibaut has a beautiful look-alike sister who goes by the name Valérie Courtois. Valérie is a professional volleyball player, who plays as a libero for her team, Budowlani Łódź and for the Belgium national volleyball team.
In 2013, she was named Best Libero of the European Championships. Valérie is two years older than her brother. Below is Valérie Courtois (Nicknamed 'Yellow Tiger') in action.
Thibaut Courtois Brother:
Gaetan Courtois is the kid brother of Thibaut Courtois. He is a big supporter of his elder brother.
Thibaut Courtois Facts:
Eva Carneiro attends to him, unlike any sports doctor.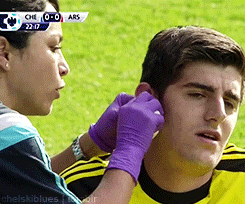 Eva is a Gibraltar-born British sports medicine specialist who is best known for serving as the first-team doctor of Chelsea F.C., which she joined in 2009.
Jose Mourinho publicly humiliated former Chelsea team doctor Eva Carneiro after she once ran onto the pitch to treat an injured Eden Hazard.
This made the former Chelsea doctor, Eva Carneiro, tender her resignation from the club after the on-pitch outburst from Mourinho, 53, whom she claimed called her a "daughter of a whore" in Portuguese.
Courtois loves the water challenge.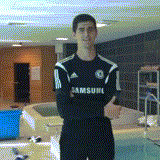 Thibaut has got his own share of pains.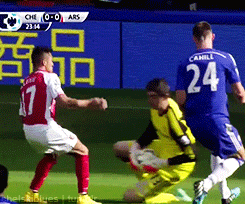 Courtois respects David de Gea.
Thibaut Courtois Personality:
Courtois has the following attribute to his personality.
Thibaut Courtois Strengths: He is very practical and reliable only on a professional level.
Courtois Weaknesses: He could be Stubborn, possessive, uncompromising and not reliable relationship-wise.
What Thibaut Courtois likes: Gardening, cooking, music and romance.
Thibaut Courtois dislikes: Sudden changes in ladies' behaviour, complications and insecurity of any kind.
Thibaut Courtois Biography Facts – Issue with Simon Mignolet:
In February 2014, Courtois caused some stir in the national team by saying of Simon Mignolet, his rival for the starting goalkeeper spot, "You have to know how to stay humble and respectful, and he should remember that."
This was despite the fact that in previous interviews, Mignolet had only said that it was his ambition to keep working and try to regain his spot in the national team.
Thibaut Courtois Untold Biography Facts – Thibauting:
Inspired by Courtois' pose from a particular save in January 2013, a Colombian fan created a new widespread social media meme called 'Thibauting' to pay homage to the Belgian goalkeeper.
In November 2013, the word was included in a shortlist composed by leading Dutch dictionary Van Dale to be polled to determine the best new sports/amusement word of the year in Belgium and ended in second. Below is a photo of fans, 'Thibauting' to glory.
The term is based on and pronounced the same way as "Tebowing", and is also similar to the worldwide 'planking' meme which was popular in 2011.
He fell for Antonio Conte Love Game:
Antonio Conte has a way of showing love to his Chelsea players who threaten his London club as regards leaving for greener pastures.
Thibaut once threatened to leave for Real Madrid. Antonio Conte diffused the situation by continually performing love games with him in a bid to gain his reconsideration. Thibaut fell for it.
FACT CHECK: Thanks for reading Thibaut Courtois' Childhood Story plus untold biography facts. At LifeBogger, we strive for accuracy and fairness. If you see something that doesn't look right in this article, please place your comment or contact us!