LifeBogger presents the Full Story of a Football Wizard best known by the Nickname; 'Ronnie'.
Our version of Ronaldinho's Childhood Story, including his Untold Biography, brings you a complete account of notable events from his boyhood days. We then proceed to tell you how Ronnie became famous.
The analysis of the Football Dribble GOAT involves his life story before fame, family life and many OFF and ON-Pitch little-known facts about him.
Without a doubt, Ronaldinho is a known wizard with a soccer ball. Many consider him to be the greatest player of his generation and one of the best in history.
Despite the accolades he has received over the years, LifeBogger notices that not many soccer fans have read a detailed version of Ronalinho's Biography. So without further ado, let's begin.
Ronaldinho's Childhood Story – Early Life and Family Background:
For starters in his Biography reading, Ronaldinho wasn't born as Ronaldinho or Ronaldinho Gaúcho. Upon birth, he bared the name Ronaldo de Assis Moreira.
He was born on the 21st of March, 1980, in Porto Alegre, Brazil. His father, João Moreira, was an iron bender/welder in a shipyard. He was also an ex-footballer.
Ronaldinho's mother, Miguelina de Assis, was a cosmetics saleswoman who later became a full-time nurse. He is lucky to come from a family of soccer players, as his dad and elder brother were once footballers.
His neighbourhood in Porto Alegre was famous for being one of the poorest and roughest towns in Brazil. It is the home to Raphinha, the Leeds United Footballer who plays under Marcelo Bielsa.
Ronaldinho's family often struggled with money and keeping a house. Retiring from football and just focusing on the welding business hardly make ends meet for his dad.
The family had to put all hopes for Roberto (Ronaldinho's elder brother) to join a professional club and earn good monies for himself and for the upliftment of the family.
Ronaldinho Family Life:
Sadly, Ronaldinho's dad is late. He used to work for Gremio, one of Porto Alegre's two big clubs as a match-day doorman until he left the job to settle for as a welder in a shipyard.
Ronaldinho is never shy of accepting he is a mummy's boy. His mum is known by the name Dona Miguelina Elói Assis dos Santos, but prefers to be called Miguelina.
She once supported her family with her cosmetic business before pursuing her long-term dream of becoming a senior Nurse as she really looks like one below.
Deisy is Ronaldinho's one and only favourite sister who is stuck with him for life. The level of support Deisy has pledged to give his brother is limitless and unconditional. She takes charge and coordinates all press activities for her brother.
Ronaldinho Biography Facts – The Big Brother Effect:
To start with, Ronaldinho's brother Roberto de Assis Moreira is ten years his senior. Although he is predominantly known for his intelligence in managing his younger brother's (Ronaldinho) illustrious career.
He himself was a budding football talent in his youth. In fact, Brazilian club Grêmio offered Assis' family a mansion in order to keep the promising youngster with the club.
Previously, the family had lived in a wooden house in the middle of a favela or slum in Porto Alegre, in the south of Brazil.
At this time, João (his father), a solderer by trade, often worked as a car park security guard at Grêmio's stadium in order to supplement his meagre income.
Roberto's success as a footballer helped his family leave the slots behind for a more comfortable home, but his hopes of playing top-level football with Grêmio were all but destroyed when he suffered a serious knee injury.
Years later, Roberto's younger brother Ronaldo (now known only as Ronaldinho), would emerge as an even hotter talent at Grêmio's youth set-up.
He became that before departing his home country for French side PSG and eventually Spanish club Barcelona, whom he was with for five years, before departing for Milan in 2008.
Throughout Ronaldinho's career, Assis acted as his brother's agent and adviser and is credited by many, including Ronaldinho himself, as a major influence and guiding force of the player.
During his acceptance speech after receiving the FIFA World Player of the Year award for a second consecutive year in December 2005, Ronaldinho paid tribute to his brother.
According to him "Roberto my idol. He's been through a lot and has helped me every step of the way. He has encouraged me never to stop trying."
Ronaldinho Biography – How Roberto Molded his Career:
His elder brother inspired him, thus making him take football seriously at the age of 7.
He spent most of his growing up age performing one-on-one training with his brother in his relatively poor and hardscrabble neighbourhood.
Roberto saw the future in his younger brother and acted on it by creating daily training sessions for him.
He started out by taking little Ronaldinho to the field after his training session has ended.
occasionally, he would miss his own training just to make out time to train his little brother.
According to Ronaldinho, "Roberto forced me to make as much as 500 juggles each time. He stood to watch me do it and would never go until I have completed it.
This took all the fun out of it for me and, at that age, made me very angry. I cried. I didn't understand. But Later I understood what he wanted"
It was Roberto who invented the following skills and passed them on to his little brother.
These are as follows;
(1) The practice of ball dribbling and handling on both ground and air. (2) Knowing how to bend his knees while dribbling
(3) Learning not to stare at the ball (4) Learning how to Perform moves while at least 1 meter from an opponent and (5) Learning how to accelerate after every move.
At the age of 7, Ronaldinho could dribble the ball hard, head up balls with precision and make amazing ball controls and using his imagination.
Training outside his comfort zone surely made Ronaldinho develop skills he never thought he had in him. It was at this stage the foundation of the following skills was built. These skills include;
(1) The FlipFlap/Elastico (2) The No-Look Passing and dribbling (3) Making Patented Freekicks (4) Performing his favourite Hocus Pocus (As seen in the picture by the left) and finally (5) Doing the difficult Joga Bonito dribble.
These skills will be showcased in the later part of this article. It is worthy to assert that Ronaldinho transferred these skills to futsal and not soccer. It was his shift from futsal to soccer that brought a turning point to his life as a footballer.
Ronaldinho Janaína Mendes Love Story:
Young Ronaldinho met Janaína Mendes after the 2002 World Cup and both fell in love. They decided to tie the knots after dating for two years.
On the 25th of February 2005, Ronaldinho and Brazilian dancer Janaína Mendes had a son named João which he named after his late father.
Ronaldinho is a man so full of fun and life. His wife knows him as a lovely husband without a dull moment. She always enjoys moments spent with him.
How Ronaldinho's Father Died:
The Football Legend has always idolized his father even after his death. His father was one of the most important people for him and his career, even though he died when he was very young.
His father's death is a sad event that happened in January of 1989. It was a dark month who Ronaldinho lost his first coach. The question here is what actually happened? What led to his father's death?… This is it;
Ronaldinho's elder brother Roberto made monies from his contract extension with his club Grêmio football team.
He bought a mansion and made his family leave their old house to the luxurious house which has a swimming pool.
On that faithful day when Roberto returned from training for a family gathering to celebrate both his eighteenth birthday and his parents' anniversary, he saw the shock of his life.
He found his father had suffered a fatal heart attack while swimming. Ronaldinho was just eight years old at that time.
According to Ronaldinho, "My dad gave me some of the best advice I've ever had. Off the field, he told me to do the right thing and be an honest, straight-up person.
And on the field: he always told me to play soccer as simply as possible. He always said one of the most complicated things you can do is to play it simple.
Ronaldinho's Brother – The Tragic End to his Career:
Ronaldinho has often credited his elder brother (Roberto) for stepping in to serve as a father figure for him after their loss.
After their father's death, it was Roberto who took on extra responsibility for the family.
He took care of Ronaldinho and his other kid brothers with the monies he earned from football.
Unfortunately, his promising career was put to an abrupt end due to a serious injury he sustained while playing for his club, Garmio.
Ronaldinho Biography – Life after Father's Death:
Ronaldinho feared his family would be poor again after an end to his brother's career. Getting injured means Roberto could no longer play and earn enough monies to keep up with their living standard.
This was a clarion call for Ronaldinho. A time he had to step up and live up to his billing. At this point, he was determined to make it quick.
He had to apply enough effort in football. He had to get that national and global attention he felt was part of his destiny.
Ronaldinho started off by being a regular partaker of both futsal (an offshoot of soccer played indoors on a hard court surface and with only five players on each side) and the soccer game.
It took less time before he started gaining attention. Early fans knew him as the smallest and best kid who could regularly perform the Brazilian samba style in both futsal and outdoor soccer games.
It was at this time his nickname 'Ronaldinho' (meaning Small Ronaldo) was fully endorsed by his friends and fans.
It is pertinent to note that Ronaldinho was always the smallest player on the field during his time in the academy.
According to him,
"They called me that because I was really small. I played with players like a certain Ronaldo Luis Nazario de Lima who was older than me.
As people observed there was another Ronaldo who was bigger, better and older, they decided to call me Ronaldinho. I accepted it because I respected him and I was younger."
Note: Ronaldinho gained the local Portuguese suffix "inho" around his name "Ronald" because of his size. In localized Portuguese, "inho" means small or little.
Most times, Ronaldinho's youth teams had to make do with makeshift playing fields. "The only grass on the field was in the corner," Ronaldinho remembers. "There was no grass in the middle! It was just sand."
His early experiences with futsal helped shape his unique playing style, marked by improving his remarkable touch and cruise control on the ball which he learnt from his elder brother Roberto.
Ronaldinho once said, "A lot of the moves I make originate from futsal and was taught to me by Roberto. In the peak of my playing days, my ball control was pretty similar to a futsal player's control."
Ronaldinho also took his time studying past greats such as Pelé, Ziko and Rivellino and kept dreaming of following in their footsteps.
The Turning Point:
That time finally came for Ronaldinho. He was awarded as Brazil's most talented youth soccer player when he scored a ridiculous 23 goals in a single game at the tender age of 13.
His wonder goals lead his team to a major junior championship. Also, that turning point came in 1997 when a teenaged Ronaldinho won a call-up to Brazil's Under-17 national team.
That year, he led the squad to the FIFA Under-17 World Championship in Egypt. He was also selected as the tournament's best player.
Soon afterwards, Ronaldinho signed his first professional contract to play for Grêmio, one of the most celebrated teams in the Brazilian league.
The very next year he was given the chance to make his senior debut against Copa Libertadores. He soon became an integral member of the team and was their star striker till he was transferred to Paris Saint-Germain in April 2001 for €5 million.
Ronaldinho was also wooed by several leading clubs, including Arsenal F.C., a London team. He followed his brother's suggestion to sign for PSG.
Ronaldinho Biography – The 2002 World Cup:
While playing with PSG, Ronaldinho continued to appear with the Brazilian national team in international tournament play. His performance made him selected for the 2002 world cup.
During the 2002 World Cup, he was part of a formidable trio known as the "Three Rs"—Ronaldinho, Ronaldo, and Rivaldo—who helped Brazil win the title that year.
Not forgetting, his 30-yard kick that landed in the net during the quarterfinal against England was one of the event's highlights.
Brazil beat Germany for the title both of those goals were scored by one of the biggest R, Ronaldo Luis Nazario de Lima.
Ronaldinho Biography Facts – Transfer to Barcelona:
In 2003, Ronaldinho announced he was ready to leave Paris Saint-Germain, and a heated bidding war for his professional commitment ensued.
He was courted by two of the best teams in Europe, F.C. Barcelona and Manchester United. Once again, he took the advice of his brother and signed with Barcelona on July 19, 2003.
His signing for the club fulfilled a lifelong dream of joining the world's most storied clubs, more so, winning the legendary No. 10 jersey typically worn by the squad's greatest creative player.
His arrival in the soccer-mad city was a major event, with 25,000 fans turning out to welcome him.
In the 2005-06 season, he played a pivotal role in helping Barcelona win their first Champions League title in 14 years.
Ronaldinho Partying Story:
Ronaldinho has been involved in spearheading several parties. This proves he is one of the world's biggest party animals.
This is his life outside the field of play.
He loves to attend the biggest and wildest Brazilian carnivals and parties around the world. This is why he has cemented his reputation as the biggest party animal on the face of the planet.
The detached, logical view of his footballing career would be that after denying himself some pleasures until his late 30s, Ronaldinho could spend the rest of his days partying to his heart's content.
This, though, did not seem to be an option. According to him, "Life is short and can end unexpectedly—so enjoy it while you can."
Ronaldinho Accident Escape:
Ronaldinho has once had an accident while he was on his way to celebrate his mother's birthday in Porto Alegre.
This happened on a Saturday when his car, driven by his own personal driver, veered into a ditch.
Two-time FIFA World Player of the Year winner escaped unhurt from a car accident in Brazil.
"It wasn't anything serious," Ronaldinho's brother and agent Roberto de Assis told the press. "Luckily nobody was hurt. That's the most important thing."
Ronaldinho Cars:
FC Barcelona legend Ronaldinho will always be known as one of football's greatest entertainers, but perhaps the Brazilian enjoyed most of his time off the field rather than on it. Off the field, he is known to be a man who has eyes for nice cars.
The football magician is a self-confessed car fanatic and has been spotted using several exotic cars.
Whether it's in a nightclub or on the field, Ronaldinho keeps the crowd entertained.
Ronaldinho Brother, Jailed:
The brother and agent of Brazil star Ronaldinho, Roberto de Assis Moreira, has once been sentenced to five years and five months in prison on charges of money laundering and tax evasion.
According to the charges, Roberto hid a transfer of US$884,000 from the Brazilian Central Bank, whilst also disguising the movement of property worth R$776,000 and depositing US$125,000 in a Swiss account without informing authorities.
The incidents took place between 2003 and 2004. Roberto has served his prison term and is now a free man.
Love for Pepsi:
Ronaldinho has had endorsements with many companies, including Nike, Pepsi, Coca-Cola, EA Sports, Gatorade and Danone etc.
In 2006 he earned over $19 million from endorsements. Having endorsed Pepsi for much of his career and appeared in commercials with David Beckham, Thierry Henry and Lionel Messi.
Ronaldinho signed a deal with Coca-Cola in 2011; however, this was terminated in July 2012 after he was caught drinking Pepsi at a news conference.
Ronaldinho Biography Facts – Issue with Pep:
Five Skills that proved he is the greatest Football Magician:
(1) After bursting onto the scene following this freekick against England in the 2002 World Cup, Ronaldinho paved the way for the emergence of Magic in football.
(2)The FlipFlap Elastico Style: When this move was first witnessed, NASA assembled the worlds greatest scientific minds for an emergency summit.
In that summit, it was stated that there was now a man who could bend the laws of physics. His name is Ronaldinho Gaúcho. Many have tried this and failed. An example is seen below;
(3) No-Look Passing: Ever tried playing football with your eyes shut? The old adage "keep your eye on the ball" was evidently not in the dictionary of Ronaldinho.
(4) Hocus Pocus: This is one of Ronaldinho's most aesthetic skills, requiring hours of practice on the training ground for just one moment of genius on the field.
(5) The Joga Bonito Style: Don't be alarmed and do not adjust your screen. This is the Joga Bonito Style invented by Ronaldinho.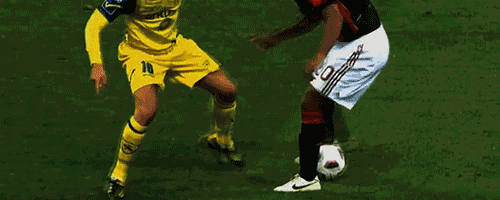 Ronaldinho Biography – LifeBogger Rankings:
We present the rankings of someone who is often called the maestro of skilful football.
Feel free to drop your comments and read related articles.
Appreciation Note:
Thank you for taking out time to read LifeBogger's version of Ronaldinho's Biography.
We care about fairness and accuracy in our quest to deliver the Life History of Brazilian Football Legends.
Surely, the Biographies of Adriano and Ricardo Kaka will excite you.
Please reach us via comment if you notice anything that doesn't look right in this content on Ronaldinho's History.