LifeBogger presents the Full Story of a Football Genius with the nickname "El Tucumano".
Our Roberto Pereyra Childhood Story Plus Untold Biography Facts bring to you a full account of notable events from his childhood time to date.
The analysis involves his life story before fame, family background, relationship life, and many other OFF-Pitch facts (little known) about him.
Yes, everyone knows about his good start to the 2018/2019 Premier League season. However, not many soccer fans have read Roberto Pereyra's Biography, which is quite fascinating. Now without further ado, let's Begin.
Roberto Pereyra Childhood Story – Early and Family Life:
For Biography starters, his full name is Roberto Maximiliano Pereyra. Roberto Pereyra was born on the 7th of January 1991 to his mother, Rosa Toledo and father, Leonides Pereyra, in San Miguel de Tucuman.
The marriage between his parents; Leonides Pereyra and Rosa Toledo is that of pure smile and happiness. Just see how he looks like his daddy – Leonides Pereyra in San Miguel de Tucuman.
Roberto Pereyra's parents are Christians from the Roman Catholic fold. Before Pereyra come into the limelight, his father worked in a lemon juice factory.
Back then, Leónides had to work hard to provide what his family would eat with the daily pay he gets.
Pereyra, unlike most players from a rich family background (Gerard Piqué, Andrea Pirlo, Hugo Lloris Mario Götze, etc) had a tough time during his early life. He grew up in the slums of Tucuman with his two brothers and a sister.
Back then, his neighbourhood was always known for its overcrowded nature as it was located in the north-western part of Argentina.
Pereyra and his parents once lived in a wooden apartment which was not conducive until they moved to an apartment constructed with concrete.
These sounded like an upgrade until it was obvious that their new accommodation equates the size of a penalty box.
Seeing hardship spurred Pereyra into catering for his immediate needs by venturing into selling and doing some odd jobs. According to him;
"We had nothing. I was selling cans of copper and the occasional fruit so I could buy a sandwich.

I was also a gardener, cutting grass. We weren't starving to death but dad could only afford the minimum requirements, so I had to sell things for a bit of extra income."
Roberto Pereyra Biography Facts – Career Buildup:
Though having a rough start, this never deterred him from furthering what he holds dear to his heart. This is football.
When Pereyra started playing football, he never owned a booth. Even when he finally got a boot, he still kept using his barefoot to play, keeping the footwear for special footballing occasions.
With all the struggle, Pereyra started playing for a youth side run by UTA, which was Argentine Road Transport Union.
At 15, he played at Necochea, which was at the south of Buenos Aires. Thanks to the built-up zeal observed in him, River Plate scouts pick interest in him.
It was at the club Pereyra discovered his true role as a midfielder and a versatile player.
Having known he came from a very humble beginning, Pereyra strived to improve on himself in order to be marketable to the world at large.
It was at River plate his youth career ended, and he started making a big impression at the club's senior side, which gave him his ticket to Europe. The rest, as they say, is now history.
Roberto Pereyra Wife and Child:
Behind every great man, there is a woman. This time, to every successful premier league Footballer, there's a glamorous wag as seen in the beautiful person of Maria Carolina, pictured below with the love of her life.
Pereyra is currently married to Maria, and both have a son called Maxi Jr Pereyra, who was born around October 2015.
Judging from the time Roberto Pereyra's son was born, both lovers must have probably met during his time at River Plate, a time he had not made it big.
Roberto Pereyra Biography Facts – The Father-Son Bonding:
Anyone can be a father, but it takes a real man like Roberto to play the role of a mother to his son.
For Roberto, it's not just about scoring goals but fostering friendship between himself and his son. Such traits of a great father are seen below.
At the time of writing, Maxi Jr Pereyra is already following in the footsteps of dad. Both like to spend time (indoors and outdoors) playing football.
Roberto Pereyra Family Life:
His parents were the inspiration behind him having unconditional love for his family. Judging from the photo below, Roberto Pereyra truly understands the concept of adopting a "Parental Pay Back" Philosophy.
Roberto Pereyra has repaid his parents for all that Love, Care, and Attention he received from birth, most importantly, their support throughout his career.
The most beautiful thing in this world is to see his dad, mum, brothers, and sister all happy and knowing that he is the reason behind that happiness. A large chunk of his pay goes to his family.
Personal Facts away from Soccer:
On a personal note, Pereyra is responsible, disciplined, and has self-control. He loves his family and his Argentine tradition.
Pereyra possesses an inner state of independence that enables him to make significant progress both in his personal and professional life.
Friendly to all levels of Fans: Pereyra is has been known to be very friendly to his fans, even those with disabilities. An example is shown below.
About His Nickname:
Roberto Pereyra got his Nickname "El Tucumano" during his time at River Plate. It denotes the name of someone who comes from the Tucumano zone.
Tucumán is a small province in northwest Argentina. Due to the love, Roberto has for his upbringing and his people from Tucuman, he decided to carry on with bearing the name. This made him design his wears, especially his boots to contain the word TUCU.
Roberto Pereyra Religion:
As stated earlier in his early life, the Roberto Pereyra family is of the Catholic faith of Christianity. He adheres strictly to the Catholic habit.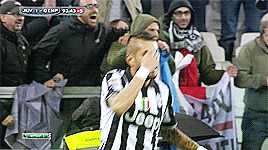 About his Goal Celebration:
The beginning of the 2018/2019 English Premier witnessed this goal celebration style from Roberto which he has called "Oro para celebrar" which means my goal as big as Gold to celebrate.
Did You Know??… Watford owners, the Pozzo family, know Roberto Pereyra very well and have a personal relationship with him.
Roberto Pereyra Untold Biography – Career Fears:
On the 16th of December 2016, Pereyra had a serious knee injury to his left leg, which affected his meniscus cartilage (the bones shock absorber).
The injury made him stay out of football for eight months during which he feared his career was over. He said this after recovering;
"It was a very tough period mentally,"
he said.
"It hurts, as you just want to get back. They tell you six months and you could feel every day of those six months. It does take you down mentally, but with dedication, strength, willpower, and support from family members and good friends, you get to the end of the tunnel. You manage to get through it. I am thankful to everyone who supported me in the tough period."
FACT CHECK: Thanks for reading our Roberto Pereyra Childhood Story, plus untold biography facts.
At LifeBogger, we strive for accuracy and fairness. If you see something that doesn't look right in this article, please place your comment or contact us!