LB presents the Full Story of a Football Utility Genius best known by the Nickname; "Jack of all Trades". Our Phil Jones Childhood Story plus Untold Biography Facts brings to you a full account of notable events from his childhood time till date.
The analysis involves his life story before fame, family life and many off-pitch little-known facts about him.
Yes, everyone knows about his defensive and facial freakish abilities but few consider our Phil Jones Bio which is quite interesting. Now without further adieu, let's Begin.
Phil Jones Childhood Story – Early Life and Family Background:
Starting off, his real name is Philip Anthony Jones. Phil Jones was born on the 25th day of February 1992 in Preston, Lancashire, United Kingdom. He was born to his mother, Helen Burk (a housekeeper) and father, Mark Jones (a firefighter).
Phil went to St Paul's Primary in Farington and as soon as he finished school for the day, he would come out begging to play footy in the park across the road. Football was everything to him. Like many young boys, he lived and breathed football.
At school, he would use cardigans and jumpers to make goalposts so he could have a game. After leaving for Balshaw's CE High school in Leyland, this habit continued…
LANCASHIRE lad Phil Jones achieved every schoolboy's dream when he was plucked from a seven-a-side team and began the journey to footballing stardom. His first club was the Ribble Wanderers youth team.
Back then, he was the most exceptional kid in the air and he gained such a reputation that visiting teams would stick two defenders on him at set-pieces.
Every season, Ribble Wanderers would be the winning team and Phil used to bang goals in for fun. He was a prolific goal scorer and also a great defender. Phil was always a tall lad and played above his age. When he was eight, he was playing for the Under 10s.
Whatever team Philip played in, he was always the youngest. But he always seemed older because of his height and maturity. People were always shocked when they found out how young he actually was.
Phil once played in a tournament for Ribble Wanderers and scored from a corner. Immediately after scoring, a Blackburn scout ran up and down the pitch saying: 'Who are the parents?'.
This was a time he got monitored. Instead of hastily signing him to Blackburn, the gave him the opportunity to become a mascot, with the assurance that they would sign him if his performance gets consistency.
Despite becoming obsessed with football from an early age. Phil was pleased with the opportunity to be a mascot for Blackburn Rovers. He would even miss his dinner so he could represent the football club.
It was during his second year with Ribble Wanderers that Blackburn Rovers scouts again spotted Phil's abilities during a tournament at Leyland Motors. The Blackburn Rovers scouts finally spoke to his parents and they all arranged for Philip to go for a Blackburn trial.
This was quite daunting for Phil Jones as he was only 10 and not very confident so he was quite apprehensive. At last, he made it to the Blackburn team where he stayed to finish up his youth career.
At the end of the 2010–11 season, Manchester United were reportedly interested in signing Jones. Alex Ferguson was apparently impressed with Jones' commitment and leadership skills at centre-back when Blackburn held United to a 1–1 draw on the day United clinched the 2010–11 title. This was how he found his way to United. The rest, as they say, is now history.
Who is Kaya? Phil Jones Wife:
Phill Jones met Kaya Hall when he was still at Blackburn. Phil's so down to earth as is Kaya. She was at the university at that time.
Jones and Hall announced their engagement on Twitter on a Christmas day and immediately bought a guard dog to protect their home. The reason for this is still yet unknown.
Phil Jones got married Kaya Hall in a star-studded wedding at their local church in Cheshire. Below is his wedding photo.
The pair married in front of Jones' Manchester United teammates Chris Smalling, Wayne Rooney, Luke Shaw and Sam Johnstone, along with West Brom's Jonny Evans.
Phil Jones Family Life:
Phil Jones father, Mark worked as a firefighter at British Nuclear Fuels, was himself on the books for Preston North End as a schoolboy and had an apprenticeship at Southport as well as playing for non-league clubs Wigan and Morecambe. Below is Mark Jones and his wife Helen.
Mark Jones grew up supporting Blackburn Rovers and as soon as Phil was old enough, he could not wait to take his own son to watch his beloved team.
Mark recalls: "My dad started taking me to watch Blackburn Rovers when I was very young and I have supported them all my life. "I remember taking Philip (Phil Jones) to his first game.
In those days, it was very different as it was all about standing and going through the turnstiles. "I remember going through the turnstiles and getting Phil in for free by carrying him over my shoulders. He absolutely loved it and after that, he went to every home game."
MOTHER: Smiling fondly at the memory, Phil Jones mum, Helen Jones once recalled: "Even before he could walk, Phil was kicking a football. back then I could still vividly see him in my mind's eye shuffling along the floor on his bottom in his nappy happily kicking a football."
Little did Helen and husband Mark know that Phil was destined for footballing glory and would end up playing for one of the biggest football clubs in the world. Right from infant school, his competitive streak was very evident.
Both parents, Helen and Mark Jones live in Leyland near Preston.
SISTER: His kid sister, Laura pictured below is a qualified teacher.
Laura is also a rock and roll and disco dancing champion who has won many competitions.
So in the early years, Helen would take Laura to dancing competitions all over the country while Mark took Phil to football. Phil loves playing board games with his sister Laura such as Scrabble and Ludo and Phil always had to be the first one to throw the dice and always wanted to win.
GRANDFATHER: Phil has a granddad politician by the name Henry Burk.
Henry Buck was a Republican member of the U.S. House of Representatives from Pennsylvania and Philadelphia businessman. He is the father of Helen Jones who is Phill Jones' mother.
Born on the 26th of September 1850 in Württemberg, Germany. He died on the 5th of December 1903 in Philadelphia, Pennsylvania, United States. He was succeeded by George A. Castor. Other members of Phil's extended family includes; Henry and Jocelyn Jones.
Phil Jones Personal Life:
Phil Jones has the following attributes to his personality.
Phil Jones Strengths: Phil is Compassionate, artistic, intuitive, gentle, wise, musical in nature.
Phil Jones Weaknesses: Phil fears a lot. He is a person trusts too easily and can be easily deceived. Finally, there is also a desire for him to escape reality.
What Phil Jones likes: He loves sleeping, being alone with Kaya Hall his wife, visual media and swimming.
What Phil Jones dislikes: People who know it all, being heavily criticized, the past coming back to haunt and cruelty of any kind.
In summary, Phil is very friendly and selfless and always willing to assist people. He is always willing to help without hoping to get anything back. His life is characterized by empathy and expressed emotional capacity which Kaya Hall his wife enjoys.
Phil Jones Untold Biography Facts – Greatest Defending in Football History:
Phil Jones currently holds the award for the greatest defending act in football history. He won this when he made a relentless defending against Arsenal in May 2015.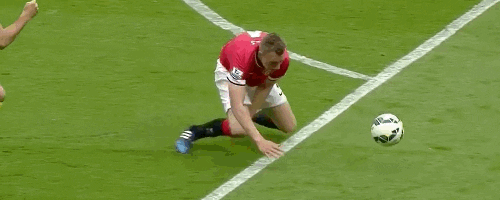 The gif below helps you to look closer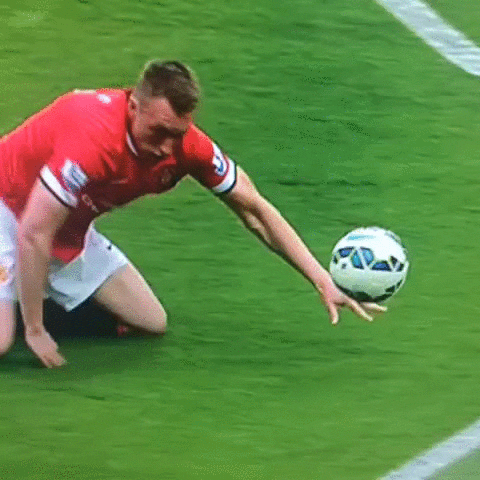 Defending Facial Expression:
Phil's defence Facial Expression is something else. He is famous for his gurning profiles when he makes tackles.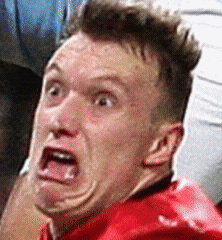 Facially versatile Manchester United and England defender Phil Jones treated us to another stunning addition to his repertoire.
FACT CHECK: Thanks for reading our Phil Jones Childhood Story plus untold biography facts. At LifeBogger, we strive for accuracy and fairness. If you see something that doesn't look right in this article, please place your comment or contact us!.