LifeBogger presents the Full Story of a Football Genius who is best known by the name "Paco".
Our Paco Alcacer Childhood Story plus Untold Biography Facts bring to you a full account of notable events from his childhood time to date.
The analysis involves his early life, family background, life story before fame, rise to fame story, relationship and personal life.
Yes, everyone knows he is a self-confessed scavenger for goals. However, only a few consider Paco Alcacer's Biography, which is quite interesting. Now without further ado, let's Begin.
Paco Alcacer Childhood Story – Early & Family Life:
For starters of his Biography, his full name is Francisco Paco Alcácer García. Paco Alcacer was born on the 30th day of August 1993 to his mother, Inma García and father, Paco Alcácer in Torrent, a community in Valencia, Spain.
Below is a photo of his lovely parents enjoying the fruits of their labour (their son's success).
Paco didn't grow up with his parents alone in his Alcacer household. He grew up with his siblings, a brother Jorge Alcácer García and a sister Marta Alcacer.
Marta, unlike Jorge (the youngest of the Alcacer family), maintains a very private lifestyle as observed in her Instagram account.
Paco Alcacer Childhood Story – Career Buildup:
Farming or Football: Paco was born as a shy and quiet child in a family of farmers who operated a middle-class family background.
Growing up, he was very close to his dad, who had always wanted his son to emulate him as a farmer.
Unfortunately, Paco Alcacer never fancied farming and didn't want a life in the ancient and old occupation. Football was a perfect means of escaping his parents' farming occupation.
Paco Alcacer Childhood Biography – Early Career Life:
Paco continued to show interest in football as a child. This made his parents consider enrolling their son into the roster of Monte-Sión, a local football club in Torrent, Spain.
Alcacer grew up idolizing Brazilian and Spanish legends, Ronaldo Luis Nazario de Lima and Raul Gonzalez.
Early on, Paco Alcacer adopted Raul's style of play thanks to him having the ability to be in the right place at the right time.
As a young footballer, Paco admitted his strength was finishing and not dribbling.
He once joked in an interview that every time he practised running with the ball, he would end up falling over. In his words…
"I know what my strengths are and I try to make the most of them.

I know what my style is. I need to be in the box, that's my workplace."
However, by combining goal scoring tactics of Raul and Ronaldo, Paco acquired the talent for scoring goals which showed early signs he would someday explode.
While it took some players time to refine their finishing, this is not the case with Alcacer, who spent his teenage years bulging nets all over Spain and Europe.
Did You Know?… Paco scored 14 times in the 2009/10 European under-17 Championship, including qualifying. This record still stands as at the time of writing.
Paco Alcacer Biography – The Alcacer Family Tragedy:
The 12th day of August 2011 will forever remain the saddest day in Paco Alcacer's life. That day initially began as a happy day as the goal scavenger netted the third and final goal in a 3–0 friendly win over Roma.
Unfortunately, as he was leaving the Mestalla Stadium, where he was accompanied by his parents, tragedy struck.
Alcacer's Dad, who, while walking with his son and wife, suddenly collapsed on the pavement after suffering a heart attack. Despite a whopping 30 minutes of efforts by medics to revive him, the 44-year-old passed away.
Painfully, this tragedy happened at the time Paco's 18 birthday was approaching. More sadly, it was just after the first match of his promotion from junior to senior football with Valencia's first team.
From that day on, every time Valencia played at home, poor Alcacer would be reminded of the saddest day of his life. Paco once admitted that his family tragedy had forced him to mature quickly. In his words;
"I was hit hard and out of nowhere when I was 18.

I couldn't even say goodbye to my father, it was so tough.

It was a family tragedy that forced me to mature quickly"
The death of his dad gave him the strength to keep fighting and try things in a different way.
This today has made him a self-confessed scavenger for goals scoring 6 in just 81 minutes (a Bundesliga record) and raising his hands to the sky for his dad.
Fast forward to the time of writing Paco's Bio, he is a Europa League winner with Villareal. This is a trophy he won alongside notable names like Yeremy Pino, Gerard Moreno, Pau Torres, etc.
The rest, as they say, is now history.
Paco Alcacer Relationship Life with Beatriz Lopez:
As the saying goes, behind every great man, there is a woman. In this case, behind almost every successful Spanish footballer, there's always a glamorous wife, wag or girlfriend.
Without a doubt, Paco Alcacer's striking abilities, as well as his lifestyle off the pitch would help you build a complete picture of him.
As at the time of writing, Paco Alcacer is in a relationship with Beatriz Lopez, a native of Valencia who was born on the 23rd of August, 1993.
Both Paco and Beatriz have been dating since December 2010.
Beatriz is a very popular wag who boasts more than 45K followers on Instagram, most of whom are fans of her man (Paco), who has more than 1.5 million Instagram followers.
Beautiful Beatriz is fluent in Spanish, Catalan/Valencian and English. Judging from their social media pages, both lovers, respect and understand each other.
Paco Alcacer Personal Life:
Paco has been with Beatriz for more than eight years. This signifies he is most probably loyal and can keep a relationship.
After the love for his partner, daughter, parents and siblings, that for his boxer dog, whom he calls Kyara follows next.
Paco never forgets to acknowledge his late dad whenever he scores goals.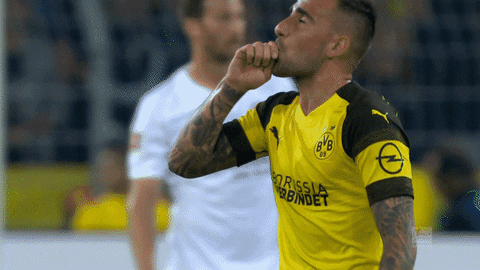 Paco's methodical approach to life ensures that nothing is left to chance not even competing with Barcelona's MSN.
Did You Know?… A big reason why it took Barca so long to land a forward was that their targets didn't want to waste time competing with Messi, Suarez and Neymar, who was popularly known as the MSN Force.
Yet Paco Alcacer spent his career at FC Barcelona battling for a place despite the MSN existence.
However, he didn't do such other mixture of players as observed after Neymar's exit. Paco, who was still denied a place in the frontline, headed for Dortmund.
FACT CHECK: Thanks for reading our Paco Alcacer Childhood Story plus Untold Biography Facts.
At LifeBogger, we strive for accuracy and fairness. If you find something that doesn't look right, please share it with us by commenting below. We'll always value and respect your ideas.