LifeBogger presents the Full Story of a Football Genius best known by the nickname "Batsman".
Our Michy Batshuayi Childhood Story plus Untold Biography Facts brings to you a full account of notable events from his childhood time to date.
The analysis involves his life story before fame, family background, relationship life, and many other OFF-Pitch facts (little known) about him.
Yes, everyone knows of his ability to pull off surprising goals but only a few consider Michy Batshuayi's Biography, which is quite interesting. Now without further ado, let's Begin.
Michy Batshuayi Childhood Story – Early and Family Life:
For Biography starters, Michy Batshuayi Atunga was born on the 2nd of October 1993 in Brussels, Belgium. He was born to his mother, Viviane Leya Iseka, and to his father, Pino Batshuayi.
Both parents are of African Descent and trace their roots back to the Democratic Republic of Congo.
They immigrated to Belgium in search of greener pastures and to cater well for their children, yet unborn.
Growing up in Brussels, Young Batshuayi had the support of his sport-loving parents who encouraged him and his sibling Aaron Leya Iseka (also a footballer) to develop and practice the sport they had a passion for.
Their support was particularly enhanced by the fact that Batshuayi displayed energetic footballing prowess, which did not only make him stand out among his peers. But rubbed off on his little brother, who also picked and developed an interest in football.
It wasn't long before Batshuayi's parents gave a boost to his passion for football by enrolling him at a youth academy, RFC Evere, first among four youths' club where he began his career.
Michy Batshuayi Biography – Career Buildup:
A footballing trait that Batshuayi was identified with during his youth clubs endeavors was his tendency to make long runs with the ball without passing, a trait which made his teammates consider him selfish.
Nevertheless, he found favour with scouts from other clubs who saw beyond his perceived selfishness.
Notable among his numerous youth career was his move to Anderlecht youth club in 2007, where he played in the capacity of a center-forward and delivered goals.
His top form didn't go unnoticed by rival club Standard Liège, who secured his services in 2008.
Batshuayi carved a niche for himself at the club with his impressive performances and was promoted to the senior team when he was aged 18.
Michy Batshuayi Biography – Rise To Fame:
Batshuayi was not one to lose progress in a career he had a passion for. His maintained top-form saw him score 21 goals during the 2013/2014 season for Standard Liège.
The feat among many others made him win the Ebony Shoe Award, given in recognition of best African best players in Belgium first division teams.
Batshuayi continued his scoring artistry at Marseille, a French club he signed for in 2014.
It was at Marseille that his goalscoring form caught the interest of top English teams, including Chelsea FC and Westham. The rest, as they say, is history.
Michy Batshuayi Girlfriend and Wife to be:
Batshuayi is one among very few notable football players that are conservative about their relationship life.
This has kept everyone speculating on who the handsome-looking chap could be dating at the moment.
No lady has been seen with him at an event or even an outing. While many believe he is good at keeping his private life private, others believe it is just a matter of time before he reveals his wag or girlfriend.
Rest assured, we would provide updates on development in that regard as they occur.
Michy Batshuayi FIFA Issue:
Michy is among players who really care about his ratings in EA Sports' hugely popular football game. Watch his reaction to his 2018 FIFA release below;
Michy Batshuayi Biography Facts – Seemingly inappropriate Expression:
While Batshuayi was at Chelsea, he came under heavy fire after footage of a decisive match appeared to catch him laughing at his fellow teammate Alvaro Morata for losing a penalty.
The incident happened during Chelsea's shootout defeat to Arenal in the finals of the 2017 community shield. Batshuayi was replaced with Morata during the 74th minute of the game for failing to impress.
The game was deadlocked with a 1-1 draw, leaving penalties to decide the winner.
Alvaro Morata, together with Thibaut Courtois missed a penalties kick that saw Arsenal win the match.
What got fans enraged was when footage appeared to show Batshuayi laughing behind Morata, who was obviously pained by the loss.
However, Batshuayi went on Twitter moments later to correct what he took as a mistaken notion by noting that:
"Wow lol some people really believe I laughed at my teammate and/or us losing ? Sorry to disappoint but I wasn't"
Michy Batshuayi Biography Facts – Love for comics:
Batshuayi has a penchant for watching and following cartoon series. The activity which is one of his pastime activities has far-reaching effects beyond entertainment as it dictates his sense of fashion.
Notable among his favourite cartoon characters is Sponge Bob, and he never seems to have enough of Sponge Bob cartoons.
In addition, he was once spotted wearing a boxer under it kit. The boxer (pictured below under transparent shorts) depicts the deep sea character under his kit.
Indeed, his love for cartoons knows no bounds.
Big Kid at Heart:
Batshuayi is one who never seems to act his age as evidenced by his collection of toys. The 25-year-old has a large collection of toys which he describes as his personal museum.
The "personal museum" features a large glass cabinet filled with miniature collectible toys.
Not just small toys, Batshuayi seems to have found a big toy that seemingly matches his age. It's a full-size statue from the popular cartoon Dragon Ball Z.
Michy Batshuayi Biography Facts – Reasons Behind Nickname:
Because of his love for comics, Batshuayi got the nickname 'Batsman'.
This is a character he likes and also defines him. The Batman character is regarded as one that comes from the dark to do the unthinkable.
Batshuayi comes from the bench and still does the magic of producing goals.
Speaking of goals, Michy's FIFA 2018 World Cup goal celebration tactics once failed him as he once saw the ball he shot to the goal post backfiring to his face.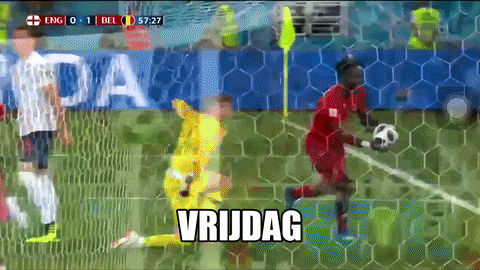 Personality:
Michy Batshuayi is one who loves what he does and radiates comic relief even when things don't go the way he plans.
Nevertheless, works hard and tries his possible best to make his achievements look effortless.
In addition, He is sociable, has a sense of diplomacy, and tries his possible best to avoid confrontations.
FACT CHECK: Thanks for reading our Michy Batshuayi Childhood Story plus untold biography facts. At LifeBogger, we strive for accuracy and fairness. If you see something that doesn't look right in this article, please place your comment or contact us!.