We present a Full Story of a Football Star who is known by the Nickname 'Super Mario'. Our Mario Balotelli Childhood Story Plus Untold Biography Facts entails a full account of notable events from his childhood time till date. Analysis involves Life story before Fame, Family Life and many off and on the pitch crazy little known facts about him.
Mario Balotelli Childhood Story Plus Untold Biography Facts

–

Early Childhood.
Mario Balotelli (Pictured Right) was  born to Ghanaian immigrants Rose and Thomas Barwuah (Pictured Below) on August 12, 1990, in Palermo, Italy. Note: Mario was born with the Name 'Mario Barwuah' and not 'Balotelli'. He was never a 'Balotelli' but a 'Barwuah' at birth. Thomas and Rose Barwuah pictured below are his real parents who gave him out for adoption to a rich white family 'The Balotellis'. 
Silvio and Francesco Balotelli (pictured below) has been the foster parent of Mario since the age of 3. Ideally, They were the force behind Mario Balotelli Fame. They loved him like their own child and have always been there for him at every step of his way.
This Super Rich Italian Billionaire family and have big connections in Italian Football. Mario Balotelli enjoys much from his parent which has led to him having a smooth way up the football ladder. Unlike other black footballers who were born in Italy, Mario stand out to be a product of luck destined to be great.
Mario Balotelli Childhood Story Plus Untold Biography Facts

–

Intestine Problems.

Right after birth, Balotelli was diagnosed with a life threatening intestine complication. This marked the beginning of worry for his biological father who struggled to meet up with financial expenses. In a bid to pay outstanding medical bills, his real father, Mr Barwuah was forced to find work away from home. He shuttled back and forth every weekend on a 12-hour overnight train. His wife, Mrs Barwuah was left at home with two young children — Abigail (Currently married to Obafemi Martins) and Mario. At that time, Life was very hard for the couple.

According to Mr Barwuah (Mario Balotelli's biological father) —'There were complications with Mario's intestines and he was in a real bad shape. Infact, the doctors were worried that he would not survive and we even had him baptized in hospital in case he died. This fear continued for over a year over chances he might die.'—
Mario Balotelli Childhood Story Plus Untold Biography Facts

–

The Adoption

.

Mario's condition improved a little by the spring of 1992. The family at this time had moved to Brescia, a wealthy industrial city with a rich vein of factories where they thought they would find good job to keep paying bills for their son medical problem. However, things still didn't go well for the couple. This made 'Social Services' to intervene by taking the child 'Mario' away from them.

At some point, things became so bad that Mario's biological parents couldn't afford basic accommodation. At that time, they lived in a cramped studio flat with another African family. Worst situation of things made them call 'Italian Social Services' for help in order to take care of Mario. Instead of helping financially, Social Services suggested Mario should be fostered which goes inline with Italian Laws. This came due to the parent's inability to take care of their child.  Social Service workers took their time in choose a suitable parent for little two year old Mario. This was where the 'Balotelli Family' showed up.

After a few days of taking their time, they proposed Francesco and Silvio Balotelli, a white parent to become Mario's new Foster parent. Mr and Mrs Balotelli already had two sons and a daughter of their own. The Balotellis, a white Super Rich Italian family, lived in a large house in Concesio, an affluent town six miles north of Brescia. They offered two-year-old Mario a lifestyle of which Mr Barwuah and his wife could only dream of.

According to Mr Barwuah (Mario's real father)… 'At first we were not sure but we decided it was probably best for Mario. We saw him every week and we all got on really well'. This trend continued as Mario Balotelli grew.

Francesco and Silvio Balotelli made sure Mario had much fun most especially with his mum and Enoch (his little brother) each time he come visiting them.
Mario Balotelli Childhood Story Plus Untold Biography Facts

–

 Adoption Complications

.

Mr Barwuah (Mario's Biological father) claimed his family initially agreed to a one-year foster placement for their first son, Mario. This foster placement however did not go well according to plans. It got extended by a further 12 months followed by another, then another again and again. At some point, they saw their eldest son 'Mario' gradually been slipped further and further away from them. Social services kept sticking to the inability of Mario's biological parents to maintaining their son's health financial needs as a reason for foster extension. Mario Balotelli (pictured below) on the other hand kept getting more comfortable with the Mr and Mrs Balotelli as he grew.
Mario Balotelli Childhood Story Plus Untold Biography Facts

–

Growing Up as a Balotelli.

Silvio and Francesco Balotelli groomed their foster son to become a full Balotelli after Mario made his final decision of wanting to be with them and not his biological parents. For Mario, he believes his biological parents Mr and Mrs Thomas and Rose Barwuah abandoned him. Till date, Mr and Mrs Barwuah still have their regrets on giving out their son for adoption.
Mario Balotelli Childhood Story Plus Untold Biography Facts

–

Early Football Career

.

Mario Balotelli got engaged in football at an early age thanks to his foster parents who made sure of that despite his health complications. Mario Balotelli remained the best while he was a kid. His amazing football talent made him win trophies for his youth club side.
Mario Balotelli had a successful youth career from 2001 to 2006 at his boyhood club AC Lumezzane where he developed to be a full professional footballer. He was the only black boy in his team.
He progressed from youth football to his senior career where he had only 2 cap with the club AC Lumezzane before going for a FC Barcelona trial and joining Inter Milian in 2007.
Mario Balotelli Childhood Story Plus Untold Biography Facts

–

The Failed FC Barcelona Trial

.

Mario once has a failed FC Barcelona trial test. Below is a picture of him during his FC Barcelona trial days. This was what made him consider joining Inter Milan.
Mario Balotelli Childhood Story Plus Untold Biography Facts

–

The Agony of Mr Thomas Barwuah

.
As Thomas Barwuah, puts it,
"My biological son Mario, isn't an abandoned one, but a long lost son. Thou I look like an abandoned father to him. Nevertheless, I am still a proud man. Thou the strain on my face would always be obvious because Mario still hates me. He has only invited me indirectly just one time for his game. He turned up one day with four tickets and he gave them my second son and his younger brother, Enoch. I asked if I could come and watch and he said that Enoch had the tickets and he could do what he wanted with them. Mario has never remembered us. Not even on a birthday or Christmas, nothing. He is not the same boy I knew when he was much younger."
He continued…
'Yes, I couldn't afford lawyers to fight for my family in getting our lost son from the hands of Mr and Mrs Balotelli. Besides, Mario grew more and more distant hating to see me or his mother. We wanted him back for more than 10 years but, every time we tried, the court keeps blocking it. As the years passed, he became colder towards us. The Balotellis (Pictured Below) know top people and are influential. I am simply a poor migrant who could do nothing.'
Mr Thomas Barwuah continued again;
'My biological son Mario Balotelli who was never officially adopted made a conscious decision to turn his back on his Ghanaian heritage. He took the surname of his adopted parents and represented Italy's Under 21 side. Perhaps it was the teenager's way of surviving in the racially charged cauldron of northern Italy, where black people were often regarded as an outsider'
According to Mario's foster mother pictured above: 'My son Mario was born and raised in Italy but had to suffer the humiliation and hardships of being considered a foreigner.'
In 2008, on his 18th birthday, Balotelli gained Italian citizenship. The ceremony was held at at Concesio's city hall. Unfortunately, the Barwuahs were not invited.
'We didn't know anything about that until we saw it on the news,' said Mr Barwuah. 'I didn't even know he had taken the surname Balotelli. I thought he would still have our surname.'
Mario Balotelli Childhood Story Plus Untold Biography Facts

–

Family Rejection and Accusation.

Also, it was also in 2008 that Balotelli claimed during a television interview that his birth parents had abandoned him in a hospital. The footballer had by then found fame at Inter Milan and claimed the Barwuahs were only interested in him for his money.

According to Mario Balotelli, 'If I didn't become Mario Balotelli then Mr and Mrs Barwuah would not have cared about me for anything.'

This accusation was deeply painful for Balotelli's biological father.

In response to this, Mr Barwuah said: 'Mario was convinced we had abandoned him in a hospital but that's just not true. That is the Balotelli family putting something into his head and it really hurts.

'We have always loved Mario but he has changed. It's the Balotellis — they have made him turn against us. 'How can he say we just want to know him for his money? It's not true. We don't want any money. We are Christians.'

Mario's biological dad continued…

'Do you know what he has started saying now? That we beat him as a child. It's a lie. We never touched him. We would never beat him. We gave him all the love we could.
We have done nothing wrong. We want more than anything to have our son back but now I think it's too late.'
Mario Balotelli Childhood Story Plus Untold Biography Facts

–

Most Branded and Stylish Footballer (GQ Magazine).

GQ Magazine which focuses on Men's fashion style have named Mario Balotelli as one among the most twenty stylish men alive.
Mario Balotelli Childhood Story Plus Untold Biography Facts

–

Training Issues 

Despite named among the most stylish dressers in the world, it is shocking that Mario Balotelli still finds it difficult in putting on bibs (training wears) during warm up games. This has been experienced during his time at Manchester City and Liverpool FC. On one occasion, Mario Balotelli had to get a member of staff  to help dress him before an important European match. See Video Below;
Mario Balotelli Childhood Story Plus Untold Biography Facts

–

Helping a Child from being Bullied.
This happened on 9th May, 2011. The youngster was hanging around outside City's Carrington training ground with Mario. Suddenly, he asked the maverick striker for his autograph, but Balotelli was more interested in why the little scamp was wagging school to come all the way to his club.
Ideally, Balotelli asked the Kid; ''Why are you not in school today?''…The Kid replied; ''I am not in school because of a bully in my class who threatens to beat me up'.
After the child told him he was being bullied, Balotelli immediately drove the boy and his mother to the school to give the bully a ticking off. The Italian international then demanded to see the headmaster to make him aware of the issue, and even mediated as the two boys were sat down to resolve their differences. A source is quoted by one paper as saying: 'Mario feels strongly about bullying and thinks it's out of order. 'He had no qualms about sorting the mess out as he felt the lad should not be missing out on school.'
Mario Balotelli Childhood Story Plus Untold Biography Facts

–

Feud

 with Obafemi Martins.
Mario Balotelli has expressed his dissatisfaction with his former Inter Milan team mate Obafemi Martins over his love affair with his sister Abigail Barwuah.
Despite issuing warnings, both parties still went on with their relationship. They currently have 3 kids.
Mario Balotelli Childhood Story Plus Untold Biography Facts

–

Unsafe 

Stacking 'Large Sums of Cash'.

When Balotelli drives his car alone, he has the habit of leaving huge sums of money, sometimes clocking up to $25,000 on his passenger sit.
He has been stopped severally by UK police officers for leaving loosed cash incessantly on sit. His usual reply to them is 'I left the money loosely, because I can'.
In April, 2011, it was reported that the a casino win in Manchester by giving £1,000 to a local homeless man.
Mario Balotelli Childhood Story Plus Untold Biography Facts

–

The Women's Prison Raid.
He has once urged his brother to go with him to checkout a women's prison in Brescia despite knowing it's against the Italian law. Thou, they successfully gained entrance to the building. In a bid to enter the prison halls, they were caught and arrested by the police. Interrogated by Italian police followed after their arrest.
This is according to Jail officer ­Calogero Lo Presti who said;
"It was four o' clock when we saw a high-powered Mercedes come through the gate. Inside were two boys, after a moment they stylishly gained entry, we realised one of them was Balotelli. Physically we recognized and apprehended them, but that is not enough, so we proceeded with official procedure through arrest and interrogation."
Mario Balotelli Childhood Story Plus Untold Biography Facts

–

The Strip Club Master.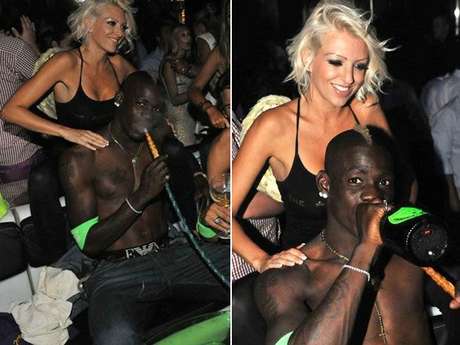 Mario Balotelli never obey the law of not visiting stripping clubs especially at 48 hours before match time. As a result, he had been fined for visiting his favorite stripping club.
Balotelli was fined two weeks' wages (£250,000) for going to stripping club in the early hours of a Friday with Manchester City due to play Bolton the next day, Saturday.
Mario Balotelli Childhood Story Plus Untold Biography Facts

–

The Love Story

.
He has a soft spot for his Italian girlfriend model Raffaella Fico who surprisingly approves his shabby habit of visiting stripping clubs. When being questioned by Press men about her boyfriend's habit, she responded; 'I don't have an issue with Mario on this. I permit him to go to stripping clubs provided he promises not to do anything wrong. After his going-outs, he always come back to me whom he loves'.
Mario Ballotelli have once pull of his shirt to reveal the words; 'I love you Raffaella' after scoring a goal in Feburary, 2012.
Mario Balotelli Childhood Story Plus Untold Biography Facts

–

Riding Small Bikes.
Mario Balotelli has been spotted  severally indulging in riding children's bikes.
The Italian striker enjoys himself with this habit.
Mario Balotelli Childhood Story Plus Untold Biography Facts

–

The School Raid

.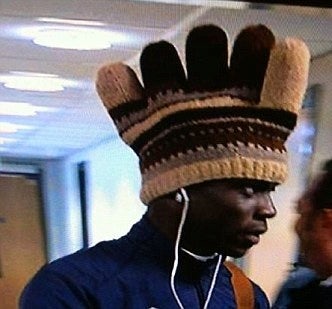 On one faithful day, Mario Balotelli parked his Bentley by the roadside of a school premises. Wearing a weird looking hand-head warmer, he wandered off quickly inside the Manchester school unannounced all in the name of  doing one thing…"Using their bathroom to Pee". After using the school's bathroom, he just left without saying a word to anyone. This was to the amuse of many teachers and students who initially thought he came to visit and donate charity at their school.
Mario Balotelli Childhood Story Plus Untold Biography Facts

–

The Sword Fights

.
Just 12 hours before his match with Rivals Manchester United, Mario Balotelli violated curfew by going to an Indian restaurant where he had a sword fight with some street rascal. Ideed, poor old Roberto Mancini had one hell of a job trying to manage Balotelil, both at Inter and City.
Mario Balotelli Childhood Story Plus Untold Biography Facts

–

The Bathroom Fire Incident

.
On one Manchester faithful night. Mario Balotelli and 4 of his friends played with fireworks before going home. On reaching home before 12 mid night, Mario remembered he still got some fireworks unused. He played it continuously, running up  and down from his bathroom to living room. The act to lighten it fully in his bathroom caused an unfortunate situation with his towel which literally caught fire. Report indicated he threw this towel inside his bathroom which set the place on fire that night.
Thanks to Manchester's fire department that came to the rescue of the said incident. Mario Balotelli had to lodge in a nearby hotel to spend the rest of the night. The next day, he promised to prove his manager and team wrong by their judgement on him. This he finally did as he was the foreman in leading his team to a 6-1 demolition of Manchester United.
Mario Balotelli Childhood Story Plus Untold Biography Facts

–

Fondness for Weapons

.
Mario Balotlli have mastered the act of showcasing his fondness for weapons. According to him, the act is directed towards his haters. The delightful gun-toting pose (pictured above) is an example of such intended message.
Mario Balotelli Childhood Story Plus Untold Biography Facts

–

The Shirtless Celebration.

When Mario Balotelli scored in the Euro 2012 semi-final against Germany, he made a shirtless goal celebration which till date have edited countless times to mean different things on the web. Often times racially targeted.
Mario Balotelli Childhood Story Plus Untold Biography Facts

–

LifeBogger Popolarity Index.

Finally on Mario Balotelli's Biography Facts, we present to you '50 Carzy things Mario Balotelli has Done' Enjoy!. Remember to View related articles.