Last Updated on
LB presents the Full Story of a Football Genius best known by the Nickname; 'Gunny'. Our Ilkay Gundogan Childhood Story plus Biography Fact brings to you full account of notable events from his childhood time till date. The analysis involves his life story before fame, family life, relationship life and many OFF-Pitch little-known facts about him.
Yes, everyone knows about his midfield abilities but few consider Ilkay Gundogan's Bio which is quite interesting. Now without further adieu, let's Begin.
Ilkay Gundogan Childhood Story Plus Untold Biography Facts –

Early Life
Ilkay Gundogan was born on the 24th day of October 1990 in Gelsenkirchen, Germany.
Gundogan was born in Gelsenkirchen to Turkish parents, Mr Irfan Gundogan (father) and Ayten Gundogan (mother). The coming of both parents to Germany came through his grandfather who first moved from Balıkesir, Turkey, to the Ruhr region of Germany where he worked as a miner. Ilkay Gundogan was born in Germany because of his granddad's efforts in bringing his parents to Germany after his Nordstern mining job paid off.
Ever smiley Ilkay lived a happy childhood life at the popular Gelsenkirchen, a migrant neighbourhood that is known to have produced talents like Mesut Ozil and Leroy Sane who came from Turkish family and African parents respectively.
Ilkay Gundogan stated playing football since the first day he went to school in Gelsenkirchen, Germany. As he puts it: "No matter where I was or where I went, I always took my football with me. I even took my football to bed with me. I practised in the lounge at home just as I did in the yard behind my parents' house. In fact, Our yard became a regular meeting place for all the children in the neighbourhood because it had garage doors that we could use as a goal post. I played there all the time with my brother. I learnt a lot from him because he was older and bigger than me. I always played with older people later on too and was always the smallest in the field of play. This is how I learned to assert myself.
After registering him at his first youth club SV Gelsenkirchen-Hessler 06 when he was age 3, his parents drove him to every game and training session and were always there for him. They also taught him from an early age on how to act independently and responsibly.
Ilkay started in the youth team of VfL Bochum where he learned his skills and developed as a player. He was very gifted and so he got many offers from clubs from Germany and Europe. His play attracted interest from FC Nurnberg, Dortmund and then, Manchester City which he currently plays for as at the time of writing. The rest, as they say, is now history. 
Ilkay Gundogan Childhood Story Plus Untold Biography Facts –

Relationship Life
When Manchester City sealed the deal for Ilkay Gundogan, many city fans felt happy for one reason. "Because of His Girlfriend" They were happy he will be bringing along his stunning girlfriend and WAG Sila Sahin (pictured below).
Ilkay Gundogan's Girlfriend – Sila Sahin
Both lovebirds are long-term partners. However, Gundogan is 5 years younger than his girlfriend who was born on the 3rd day of December 1985 in Spandau, Berlin.
The sizzling hot actress caused a storm in 2011 after posing for a cover shoot for a P-Boy magazine. Ideally, she became the first Turkish woman to appear on the front of a P-Boy magazine.
Here are 10 of her Her most sizzling pictures below shows that she is a top of the range WAG. The photo describes a new dimension of her personality. It showcases her fitness as second to none.
The unrivaled fitness of Sila Sahin
Ilkay Gundogan Childhood Story Plus Untold Biography Facts –

Personality
Ilkay Gundogan has the following attribute to his personality.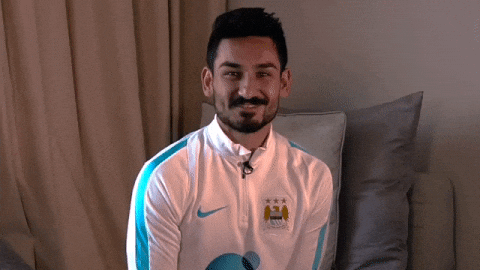 Ilkay Gundogan's Strengths: He is Resourceful, brave, passionate and finally, a true friend
Ilkay Gundogan's Weaknesses: He could be jealous and secretive.
What Ilkay Gundogan likes: He likes Truth, facts, being right and hanging out with longtime friends.
What Ilkay Gundogan dislikes: He dislikes dishonesty, revealing secrets and passive people.
 In essence, Ilkay Gundogan is a passionate person. He is someone who is very are determined and decisive and will research until he finds out the truth. Ilkay Gundogan is also a great leader. You can be sure that he will keep your secrets, whatever they may be.
Ilkay Gundogan Childhood Story Plus Untold Biography Facts –

Family Life
Ilkay Gundogan initially comes from a middle-class family before football investments paid off. He wouldn't have been where he is today if not for his granddad who migrated from Turkey to Germany.
After his granddad had found a new job and homeland in Germany, his grandmother, uncle and father also moved from Turkey to the German Ruhr region where they all first worked as miners in the Nordstern mine in Gelsenkirchen.
Ilkay Gundogan parents, Mr Irfan Gundogan (father) and Ayten Gundogan (mother).
His uncle till date, still works in the Prosper mine in Bottrop. Unfortunately hardly finds the time and chance to visit his hometown of Balikesir in Turkey. Instead, he prefers Instabul which is really important to him thanks to its range of cultures.
Family and home are very important to Ilkay Gundogan. He is extremely grateful to my parents for all the support they have given me from the beginning. Also is his uncle who still remains one of the most important people in his life.
BROTHER: He has a brother named; Ilker Gündogan who supports him in all aspects of his career.  just like my brother. Ilker sees things critically when others praise his brother and stand by his brother when things aren't going to plan.
Gündoğan also has a cousin named Naz Aydemir. Naz is a volleyball player for Vakıfbank and is currently with the Turkish women's national team as at the time of writing. 
Ilkay Gundogan Childhood Story Plus Untold Biography Facts –

Team Mate Respect
Manchester City's players once made a decision to pay a unique tribute to injured midfielder Ilkay Gundogan. Shockingly, Ilkay Gundogan met with a high degree of confusion when he observed players to be wearing his shirt.
They all wore Ilkay Gundogan's number eight shirt back-to-front as they walked out onto the Etihad pitch ahead of their home match with Arsenal. He was forced to jokingly reassure fans that he had not died.
Ilkay Gundogan Childhood Story Plus Untold Biography Facts –

Road to Recovery
We present to you, a short summary of Ilkay Gundogan's recovery.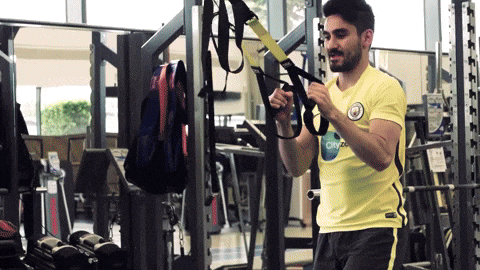 Ilkay believes being fit is about being better than you used to be.
Ilkay Gundogan Childhood Story Plus Untold Biography Facts –

A New Stadium
Upon visiting his hometown in Turkey, his Deputy Mayor Yilmaz, Cemal Ergenç gave him a shocker which left Gundogan all in his usual smiles.
Mayor Yilmaz expressed that his hometown citizens are proud of the famous football player in Ilkay. Yilmaz announced that they will henceforth, give the name "Ilkay Gündoğan Stadium" to their new stadium. This is meant to encourage people to emulate the hardworking potentials in Ilkay.  
This gift was meant for the acceleration of the process and Youth and Sports as Deputy Mayor Yilmaz, Cemal Ergenç explained to Ilkay Gündoğan in the presence of his dad. 
Deputy Mayor Yilmaz, Cemal Ergenç unleashing a surprise to Gundogan
Ilkay Gundogan Childhood Story Plus Untold Biography Facts –

Loved by Klopp
Jürgen Klopp, Gündoğan's former coach at Borussia Dortmund, described Gündoğan as an "intelligent and complete midfielder with numerous strengths".
Although Gündoğan had a tough start at Dortmund, where he admitted "things hadn't gone as well as I had thought", his "willingness to learn" and "great attitude", according to Klopp, have allowed him to play a pivotal role in his career. He was able to fit into any team by combining creativity and outstanding passing with the defensive attributes and tireless energy needed.
Ilkay Gundogan Childhood Story Plus Untold Biography Facts –

EPL Fact
He is made for the premier league which is thought to be the toughest football league in the world. His salary is $180,000 per week at the moment that makes his net worth around $22 million.                                                                                                                             FACT CHECK: Thanks for reading our Fernando Torres Childhood Story plus untold biography facts. At LifeBogger, we strive for accuracy and fairness. If you see something that doesn't look right in this article, please place your comment or contact us!.