Lifebogger presents the Full Story of a Football Genius best known by the Nickname; 'El Nino.
Our Fernando Torres Childhood Story plus Biography Fact gives you a complete account of notable events from his childhood.
The analysis of the ex-Spanish Football Legend involves his life story before fame, family life, relationship life and his OFF-Pitch life.
Yes, everyone knows about his striking highs and lows, but few consider Fernando Torres' Biography, which is quite interesting. Now, without further ado, let's Begin.
Fernando Torres Childhood Story – Early Life and Family Background:
For Biography starters, Fernando José Torres Sanz was born on the 20th day of March 1984 in Fuenlabrada, a city on the outskirts of Spain's capital, Madrid.
He was born as the last born child and baby of the house to his mother, Flori Sanz Torres and father, José Torres.
Torres grew up in Fuenlabrada, a city where Real Madrid is the main club supported by the inhabitants. However, he chose Athletico. The striker first kicked a football at the age of 5 and soon joined local club Parque 84.
You'd be surprised to know that Torres' first position was not that of a striker but a goalkeeper.
It was the same role his elder brother first played. Torres remained in that position until the age of 7 after which he switched to the striker's role.
Fernando Torres father, José Torres, also got him trained privately during his childhood. As he does that, his mother, Flori Sanz, travelled daily with him to training sessions.
His grandfather was not a passionate football fan but took pride in being an Atlético Madrid supporter. In fact, Torres inherited the love for Athletico from him.
At age eight, he started playing regularly as a striker in an indoor league for the neighbourhood club, Mario's Holland, using the characters from the anime Captain Tsubasa as his inspiration to dominate his teammates and rise up the ranks.
Two years later, aged 10, he progressed to an 11-side team, Rayo 13. He scored 55 goals in a season and was one of three Rayo 13 players to earn a trial with Atlético. He impressed the scouts and joined the club's youth system at age 11 in 1995.
This was when his Atletico Madrid journey started. Torres grew up through their ranks and won major trophies as seen below.
His rise to dominance got him spotted by Liverpool Scouts. The rest, as they say, is now history.
Who is Olalla Domínguez? Fernando Torres Lover:
Fernando met the love of his life, Olalla Domínguez Liste in the year 2001 which was the first year of being a professional player in Athletico.
They met in the Galician seaside town of Estorde, Cee, where Torres would go on family holidays each year to escape city life from the Spanish capital.
Fernando Torres' wife, Olalla Dominguez, is not your typical WAG. She is shy and likes to stay away from the limelight.
Football weddings usually are a phenomenon. Thousands of pounds are spent in searching for the most exotic locations and mouthwatering food. More so, the most beautiful dresses and suits. But Fernando Torres is no normal footballer.
Torres married his childhood sweetheart Olalla Dominguez, in a private ceremony in front of just 2 guests at the tiny El Escorial town hall, north of Madrid. It was a far cry from the lavish celebrations preferred by the Beckhams, Rooneys and Coles.
Dominguez likes to stay fashionable and was studying at the Spanish equivalent of the Open University when they got married. Dominguez is a mother of two children, daughter Nora born in 2009, and son Leo born in 2010.
Xabi Alonso, Torres' close friend, and Liverpool captain Steven Gerrard all visited the couple in the hospital at the time of their son's birth. Below is a photo of Fernando Torres and his beautiful children during his time at Chelsea.
More recently, during his final comeback to Atletico Madrid. Fernando Torres's wife, Olalla Dominguez, had her third child and second daughter, Elsa Torres.
Below is Else, her father and his friend, Antione Griezmann. Fernando Torres' kid looks calm and a bit not happy.
Fernando Torres Family Facts:
Considering his age and having to be the last born of his family, it is expected that Fernando Torres' parents should probably be in their 60s.
The following is a photo of his mother, Flori Sanz Torres expressive of how much she loves her son.
The photo below shows his father, José Torres (left), grandfather (centre) and mother, Flori Sanz (right).
About Fernando Torres Brother:
Fernando Torres' brother Israel was born in the year 1977. He is the second child of his family, more so the only brother to Fernando Torres. Below is a photo of Isreal Torres and his brother Fernando.
Isreal Torres is six years older than Fernando.
About Fernando Torres Sister:
Fernando Torres' sister María Paz was born in the year 1976, which makes her the first child and daughter of the Torres family. Below is the ever-looking young Maria Paz Torres.
Maria Paz Torres and her brother Fernando. Despite looking young, she is seven years older than her little brother Fernando.
Personal Life:
In the course of our research, we found Fernando Torres to have the following attributes as regards his personal life.
Strengths: He is compassionate, artistic, intuitive, gentle, wise and musical in nature.
Weaknesses: Fernando could be Fearful, overly trusting, gets sad and has a desire to escape reality.
What Fernando Torres likes: Fernando Torres loves being alone, more so; sleeping, food, gadgets/gaming, movie, music, romance, visiting Wikipedia, keeping to date with emails and swimming.
Fernando Torres dislikes: People who claim they know-it-alls, the cruelty of any kind, being criticized and seeing the past returning to haunt him.
In summary, Fernando Torres is very friendly and often finds themselves in the company of very different people. He is always willing to help others without hoping to get anything back.
Fernando Torres Untold Biography Facts – The Bromance with David Luis:
It might have been dismissed as "touching Fernando Torres for luck", but the ritual David Luiz performed before Chelsea's 5-0 Champions League win over Genk – in which Torres scored twice – is rooted more in David Luiz's faith than in some pre-match superstition.
Once at Chelsea, Torres went 903 minutes without scoring a goal before a strike against West Ham ended that spell. His goal-scoring potential became known after the prayer below.
David Luiz once said…, "My faith gives me the belief that I can go out and perform and also help other players, including my opponent. It gives me strength and inspiration." He later added, "Everything in life belongs to God. Our purpose has already been mapped out."
Here, we give you a mix of photos of the epic bromance between Fernando Torres and David Luiz.
Fernando Torres Facts:
First thing first, Fernando Torres is a master of the Rabona. This is a method of kicking the football whereby the kicking leg is wrapped around the back of the standing leg–effectively with one's legs crossed.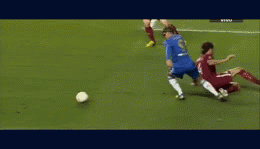 The spiritual bromance he had with David Luiz once set the internet on fire.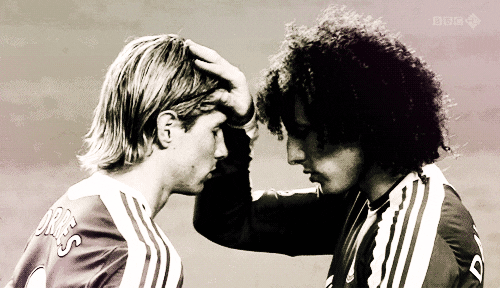 Fernando Torres is also nicknamed 'Mr. Foody'.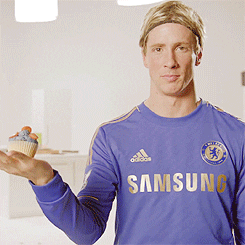 In the Spanish national team, his best friend is David Villa.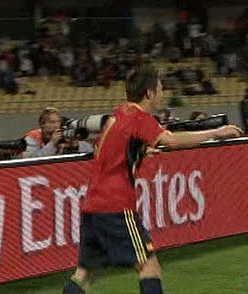 Did you know?… Fernando Torres loves the water challenge.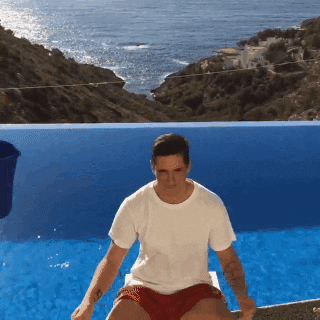 Mr Foody Facts:
Torres loves food and cooking in the kitchen. He is a great fan of seafood and just loves the smell of freshly cooked quail made by his wife's grandmother. But his favourite food dish is Chicken Curry. And one of the vices he admits is that he likes all kinds of candy.
Fernando Torres Movies and Music:
Asides from cooking and eating, Torres is also a big fan of movies. Life is a wonderful movie, and he believes it defines him, but did we know he acts too?
He has made a cameo performance in the comic movie – Torrente 3: El Protector, a Spanish film released in 2005. Also, in bell end, as seen in the picture below.
He has also appeared in a music video for the band, "El Canto del Loco," whose lead singer Dani Martin, shares a strong friendship with him.
Apart from movies, Torres also enjoys English Rock music. He is a great fan of the Beatles, Kasabian and Oasis and his favourite song is Yellow Submarine.
Fernando Torres is also a big fan of the Lord Of The Rings Series. Whenever he is travelling, he always packs his laptop, to watch movies, television series- his favourites being Lost and Prison Break.
Fernando Torres Tattoos:
Ink has become one of the most common things you see on the hands of a footballer. Almost everyone has tattoos today. Fernando Torres has three tattoos, all with interesting stories behind them.
His first tattoo, present on the inside of his right shin, is the roman numerals VII VII MMI (7 7 2001).
We don't really know what that date means but speculation says that it's either the date he got together with his girlfriend, Olalla or the date his grandfather died, who was very dear to him.
On his right arm, he has the number 9 tattooed, which obviously means the shirt number he has worn most in his football career.
Fernando Torres has also emblazoned in his left hand, the Elvin language. The tattoo on his left arm is the Spanish Mode of "Fernando" in Tengwar.
According to quenya101.com, there is a slight mistake with the tattoo. The tengwa accent is supposed to be over the first "m" looking character; instead, it is over the second. Sergio Aguero got the idea for his Tengwar tattoo from Torres. Aguero's tattoo reads "Kun Aguero" in Tengwar on his right forearm.
Fernando Torres Facts – Gadgets and Gaming:
Torres is a nerd when it comes to gadgets. He loves gadgets and gaming consoles. And he is one of the biggest fans of the PlayStation console.
He had installed three PlayStation gaming rooms in his luxury pad – summing up to £35,000, one on each floor to keep him occupied.
He loves to have three copies of all of his favourite PlayStation games, including Pro Evolution Soccer, Grand Theft Auto IV and Halo 3.
Fact Check:
Thanks for reading our Fernando Torres Childhood Story and untold biography facts.
At LifeBogger, we strive for accuracy and fairness in our quest to deliver you Liverpool Football players. Surely, the life history of Stefan Bajčetić and Cody Gakpo will excite you.
If you see something that doesn't look right in this article, please place your comment or contact us!