LifeBogger presents the Full Story of a Goal Stopper best known by the Nickname; "The Brick Wall".
Our version of Ederson Moraes' Biography brings you a full account of notable events from his childhood time till date.
The analysis of Ederson Moraes's Biography involves his life story before fame, family life, parents, wife (Lais Moraes), lifestyle, personal life, net worth and many off-pitch facts about him.
Yes, everyone knows about his Goal Keeping Reflexes, but not many fans have read Ederson Moraes' Biography, which is quite interesting. Now, without further ado, let's Begin.
Ederson Moraes Childhood Story – Early Life and Family Background:
For his Biography starters, Ederson Santana de Moraes was born on the 17th day of August 1993 in Osasco, São Paulo, Brazil.
Ederson's upbringing was financially tough in Brazil. He was born to poor parents who couldn't provide much but allowed football as a last resort.
Right from the period when he was a kid, everyone, including his coach, always called him "The Bull".
This is because football has always been his red rag and young Ederson developed the ability to charge at his rag.
His miracle came when he once shot the ball to an exceptional distance on his long kick, thus scoring from his own box at the youth level.
Adding this to his ability to charge at strikers, a call from Europe came thanks to Benfica scouts who developed so much interest in the young goalkeeper.
Ederson Moraes Biography – Road to Fame Story:
Aged just 16, Ederson made the switch across the Atlantic to Benfica, joining the Lisbon club's youth ranks. He felt very comfortable with their Brazilian-like surroundings.
His big European break took its time to come. At some point in time, Ederson was allowed to leave for lowly Ribeirao after two years with the Primeira Liga's junior side.
At the club, he became the best and further went on to play for Rio Ave. It didn't take time before Benfica's side got interested in him again.
He started in their team 'B' team and proved to be a worthy number one. Ederson played alongside fellow new recruit Bernardo Silva at the Benfica youth level.
Ederson faced considerable challenges when he went to the senior side. His biggest challenge was the presence of compatriot Julio Cesar, the lavishly decorated veteran keeper, between the posts.
The former Inter Milan man was indeed a revelation in 2015, earning a contract extension through to 2018.
However, when Ederson's chance came, he took it. Cesar later began his understudy duties to the younger man ever since.
Ederson Moraes Bio – Success Story:
Despite his youth, Ederson enjoyed plenty of success, winning the Primeira Liga twice. Once upon a time, his team excelled as they defeated Zenit St Petersburg in the Champions League.
This set up a quarter-final clash with Bayern Munich, which was handled by Pep Guardiola.
Ederson faced his future manager, Pep Guardiola, as Benfica narrowly lost over two legs, with the goalkeeper playing excellently. This ignited Pep's love for him. The rest, as they say, is now history.
Who is Lais Moraes? Ederson Moraes Wife:
Ederson Moraes's wife is absolutely stunning. Take a look at the gorgeous Lais Moraes, the lady of enamoured beauty.
They have been married for four years and both have their first daughter named Yasmin. When Ederson joined Man City, everyone didn't really give him a look.
It was his brunette wife Lais, who fans will have their eye on. Both lovers regularly post cute snaps on Instagram of their relationship.
Beautiful Lias Moraes is regularly seen in the stands cheering on her man.
Personal Life:
The Goalie, Ederson Moraes, has the following attribute to his personality.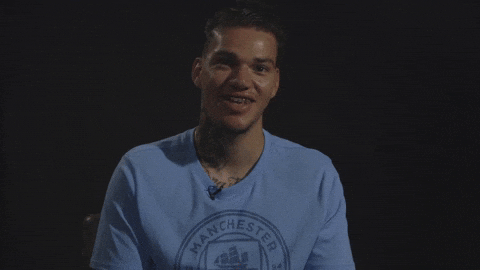 Ederson Maraes Strengths: He is creative, passionate, generous, warm-hearted, cheerful, and of course, humorous.
Weaknesses: He could be shy, arrogant, and stubborn when provoked.
What Ederson Maraes likes: Surely, he loves giving financial assistance to the needy, theatre, taking holidays and having fun with friends.
Ederson Maraes dislikes: he dislikes being ignored and facing a difficult reality.
In summary, Ederson is dramatic, creative, self-confident, dominant, and a person who is extremely difficult to resist.
Off the pitch, he is very shy, but inside he's like a lion with a lot of hunger. He is someone who is able to achieve anything he wants in any area of life he commits himself to.
Ederson Moraes Tattoo Facts:
Ederson has 34 tattoos pierced into his body. These tattoos have various meanings, from his Christian religious background, his footballing exploits and his family back in Brazil.
Starting on his neck, Ederson has a striking skull around his Adam's apple, which looks like it is being crushed by a delicate rose around beneath his ear.
His chest displays his Christian faith. Ederson possesses a dove which flies below the words "I Belong to Jesus" He puts in a cross necklace to further cement his Christian faith.
On his leg is the Portuguese League trophy, having won it with Benfica in 2015.
Ederson Moraes Untold Biography Facts – The Encounter:
The Goalie makes 2.42 saves per game, compared to Claudio Bravo's 1.44, David de Gea's 1.81 and Thibaut Courtois' 1.52.
One of such saves involves him exercising his strong reflexes and putting his career on the line as pictured below.
The picture below shows the aftermath of the encounter with Sadio Mane.
Ederson Moraes Family Life:
Talking to his mother, father, brothers and sisters who know Ederson best, a picture of a quiet, kind-spirited man develops.
His upbringing was financially tough, but his parents brought values and morals instead. Ederson is from a family of a strong religious Christian background.
One thing that is known among his family is generosity. Ederson himself has once donated nearly £10,000 to his former club Osasco recently, to help clear their debts.
Untold Bio – Career Potential:
Without a doubt, Ederson is an agile, courageous, energetic, and physically imposing keeper. Ederson possesses physical strength, excellent reflexes and great shot-stopping abilities.
He developed a reputation as a penalty-saving specialist during his time with Benfica. However, he is most highly regarded for his outstanding distribution and skill with the ball at his feet.
This control and confidence in the ball enable him to retain possession and quickly play the ball out from the back on the ground with his hands or either foot – even when put under pressure.
In spite of his young age, he has already stood out for his decision-making, consistency, and composure in goal, as well as his ability to organise his defence.
Fact Check:
Thanks for reading our Ederson Moraes Biography. LifeBogger strives for accuracy and fairness in our quest to deliver Brazilian Football Stories.
Surely, the life history of Alex Sandro and Renan Lodi should excite you. If you see something that doesn't look right in this article, please place your comment or contact us!