LB presents the Full Story of a Football Genius who is best known by the name "Declan". Our Declan Rice Childhood Story plus Untold Biography Facts bring to you a full account of notable events from his childhood time to date. The analysis involves his early life, family background, life story before fame, rise to fame story, relationship and personal life.
Yes, everyone knows he is a player with great potential for the future. However, only a few consider Declan Rice's Biography which is quite interesting. Now without further ado, let's Begin.
Declan Rice Childhood Story Plus Untold Biography Facts-

 Early Life and Family Background
Declan Rice was born on the 14th day of January 1999 to his father, Sean Rice and mother Teresa Rice in London, United Kingdom. Declan Rice is of Irish descent and that can be traced from his father's Irish parents Margaret and Jack who are from Douglas, a suburb of Cork city, Ireland. Below is the footballer and his lovely father, Sean Rice.
Thanks to his grandparents and because his mother, Teresa, was from Co Longford in Ireland, Declan believes he is a second-generation Irish in Britain. In summary, Declan as a person is Irish but has a British heart.
Declan Rice grew up with his mum, dad and possibly no brother or sister in Kingston upon Thames. As a little boy, a sense of fulfillment came whenever there is football on his feet. Literally, all gifts little Declan requested came in the form of football. Such likeness for the sport later paid dividends.
Declan Rice Childhood Story Plus Untold Biography Facts-

 Early Career Life
Declan's passion for soccer saw him with other newbies enroll on the roster of a Chelsea Football academy after a successful trial. He was one among few boys selected by the academy during a competitive period, a time Chelsea FC just got reformed by Russian Billionaire, Roman Abramovich.
That year 2006, Declan's career foundation was laid as a seven-year-old. It was an exciting time for the Rice family who saw their son entering the youth arm of a club which just got rejuvenated by the special one Jose Mourinho.
Declan Rice Childhood Story Plus Untold Biography Facts-

 Road to Fame
Chelsea FC academy life isn't easy at that time. Because of that, only the toughest kids survived through the academy. Just like other academy players, insecurity was the biggest problem for Declan Rice who saw his team-mates as his rivals. He fought and won slim chances which help him progress to higher age ranks. Declan progressed through the age ranks until he got the unforgettable Chelsea's highly competitive under 14 team.
Declan Rice was among other few kids who saw themselves struggling in the cut-throat Chelsea FC environment during his under 14 years. Sadly, poor Declan could not cope with the pressure and this brought huge consequence. He was released by Chelsea academy who saw him as a surplus to requirements.
That year, 2014 was the year Declan Rice faced depression as a young aspiring football star. Without a doubt, any kid footballer who has lived through academy rejection will know only too well the deep emotional pain and damaging psychological consequences it can cause. Nabil Fekir also suffered a similar fate.
Despite Chelsea academy rejection, determinations till remained his watchwords. That same year 2014, Declan was called up by the Academy of West Ham United for trials. In West Ham, Declan found solace away from his troubled reality.
Declan Rice Childhood Story Plus Untold Biography Facts-

 Rise to Fame
Better Life on the road to being Pro:
On 16 December 2015, just over a year after joining Wes Ham youth, Rice signed his first professional contract with the club and began to feature for the club U23 team. This was a time he started bagging achievements. The first came on the 10th of November 2017 when Rice won PL2 player of the month of October, 2017.
On March 2018, Rice was honored with the u19 player of the year. This feat earned him a senior team ticket.
Declan's debut for the Hammers earned him the man of the match award. According to the footballer;…"It was a very proud moment for me & my family. Big love to my dad who came all the way out to come and watch, love you."
In April 2018, Declan Rice was named as runner-up for the 2017–18 Hammer of the Year award which was given to Marko Arnautović. Despite losing out to him, Rice retained another award for the young hammer of the year for the second year running.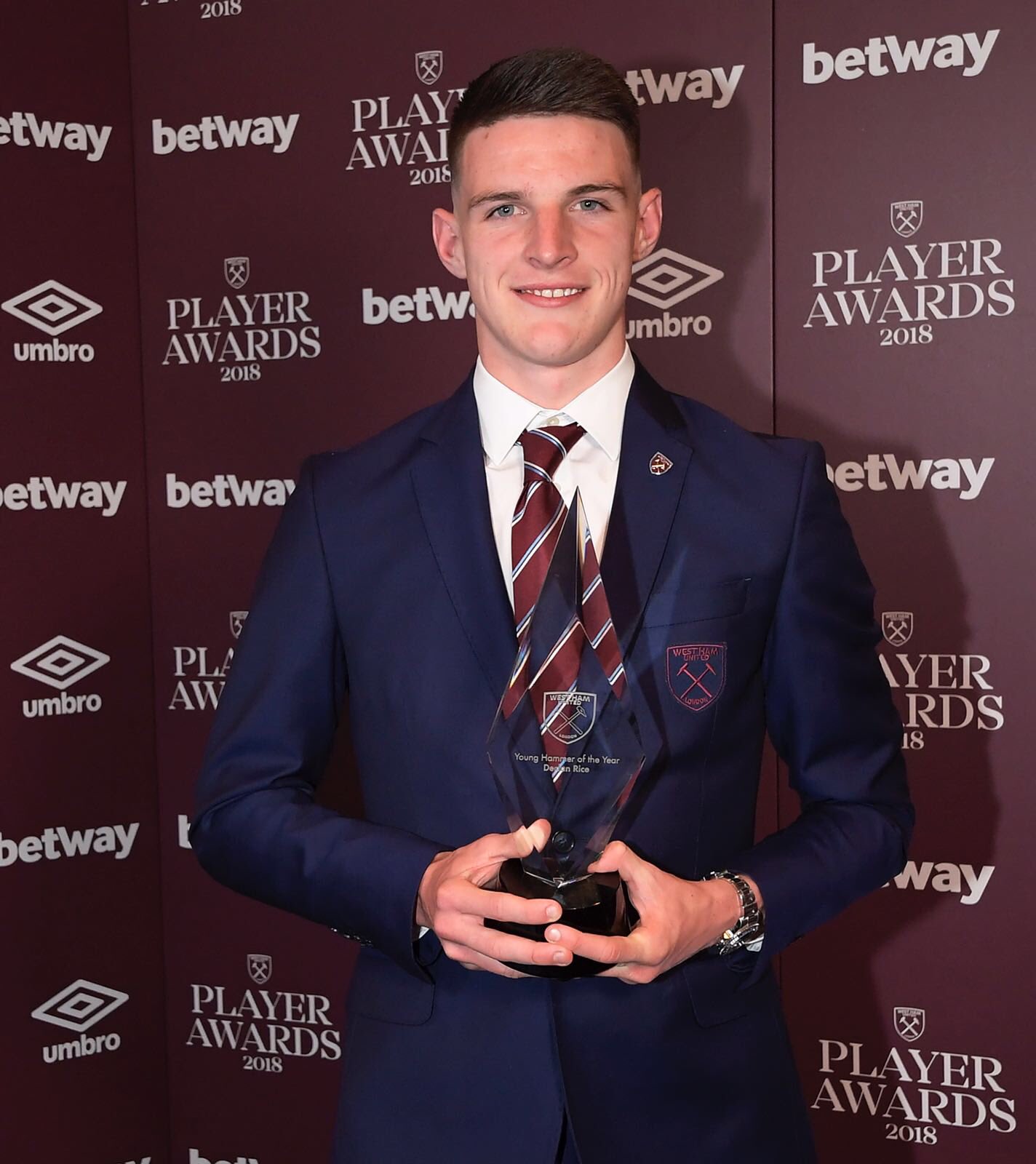 Making a Statement: 
"I've come back here after being released by Chelsea at 14 and five years later I'm playing for West Ham in the Premier League," said Rice who was released by Chelsea at the age of 14.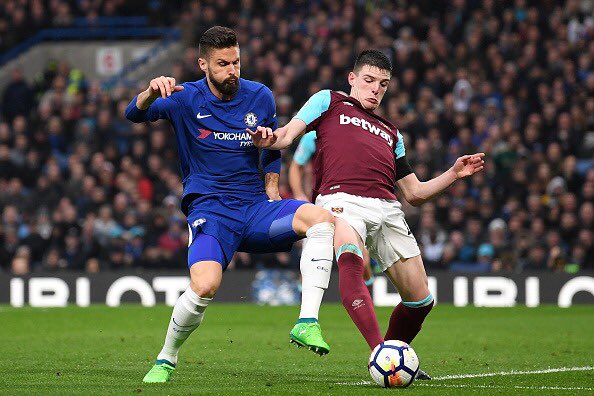 That Sunday was a crazy day and one which made Declan Rice family very proud of his achievements. Rice used this opportunity to prove to Chelsea how good he is. He made a statement to the club and was very happy with his performance.
On 23 December 2018, Rice made his 50th appearance for West Ham. He became the first player to do so while still a teenager thus beating Michael Carrick's record. After seeing interest from Man City, West Ham decided to offer him a new contract until 2024 with the option of an additional year. That defining moment was captured in the video below;
The rest, as they say, is now history.
Declan Rice Childhood Story Plus Untold Biography Facts-

 Relationship Life
Declan Rice is someone who experienced love during his teenage years. He decided to have a relationship with a fellow teenager thus making it public even to the social media.
Unlike most young footballers, making relationship public isn't such a good idea considering that such public scrutiny might affect their young careers. This, however, isn't the case of Declan Rice who already knows the stock he is made up of. Behind the football star, there is a glamorous wag in the name of Lauren Fryer who is the same age with her boyfriend.
Rice is a kind of lover who can sing love songs to his girlfriend, write poetry, paint pictures and most importantly, create love song videos filled with love photos of him and Lauren Fryer. Below is one of such videos.
Declan Rice Childhood Story Plus Untold Biography Facts-

 Lifestyle
Before the 28th of December, 2018, Declan earned a peanut of just £3,000-a-week. As at the time of writing, he earns £30,000-a-week which literally denotes a change of lifestyle.
Declan Rice Childhood Story Plus Untold Biography Facts-

 Untold Facts
Declan upon joining West Ham academy, Declan became an admirer and fan of Pablo Zabaleta who played in Man City at that time.
Speaking about his admiration of the Argentine, he once said…; "I was a fan of Pablo in 2014. From a Fan, I became a his fellow teammate 
Declan Rice Childhood Story Plus Untold Biography Facts-

 Personal Life
Getting to know Declan Rice's personal life would help you get a complete picture of him.
Declan is someone who possesses an inner state of independence which has enabled him to make significant progress both in his personal life. Being released by Chelsea FC academy built in Declan that tough mentality and discipline which reflects his current style of play.
FACT CHECK: Thanks for reading our Declan Rice Childhood Story plus Untold Biography Facts. At LifeBogger, we strive for accuracy and fairness. If you find something that doesn't look right, please share with us by commenting below. We'll always value and respect your ideas.